Saturday was the Rewired State National Hack the Government Day hack day, which dxw were sponsoring. Harry and I went along to meet the attendees and join the hard working teams of hackers.
There were a huge range of interesting data sets to choose from, but Harry had a promising idea about a set from unistats.direct.gov.uk. We teamed up with Jordan Hatch from the GDS, and Ed Hanton who had just graduated from Young Rewired State. Then we settled in for the day to work on our project; in the appropriately named 'Rails Pod'.
5 hours of blood, sweat and chocolate biscuits later and Universirator was born.  The aim of Universirator is give would-be students an indication of the top and bottom ten university courses per subject.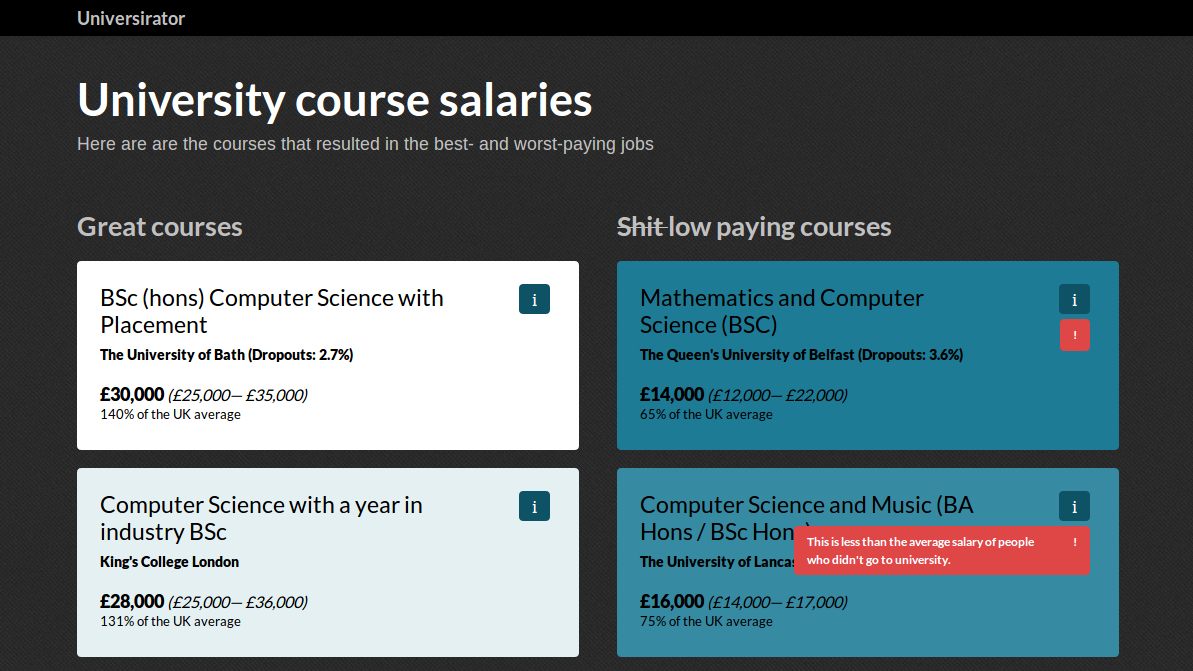 The app uses salary data from unistats, combines it with data on first-year drop-out rates, and presents a leaderboard of the courses which are most likely to return a better salary within the first six months of finishing your course. It will also tell you if the average salary of a graduate from a particular course is actually less than the UK average salary, potentially leaving you worse off than if you'd skipped university altogether.
We are proud to say that Universirator won the Cousin Sven Prize for Amazing Idea We Would Never Have Thought Of. There was a lot of stiff competition, and you can view the full list of hacks here. Our project isn't live yet, but we'll be making it available soon. In the meantime, you can have a poke around the code on github.
#nhgt13 was my first ever hack day, and I had a fantastic time. I was overwhelmed by the amount of passionate and talented people who attended, and I'm already excited to attend my next Rewired State event.