The dxw WordPress security plugin
Following up on recent posts by Duncan and myself on WordPress security, it's probably about time I told you about the dxw WordPress security plugin.
This plugin pulls in the data from the dxw WordPress plugin security reviews site, and embeds them in your site, right in the plugins page in your dashboard.
This provides you with an instant, visual security review of all the plugins you use on your site. If there's a dxw review available, it will be highlighted next to the relevant plugin in the listing.
The plugin is in the WordPress plugin repository so is dead easy to install. Just search for it within the plugin installer on your site and you can install it that way, or alternatively you can download it and FTP it up onto your site. Then it's just a case of activating it.
What I find especially neat is that the plugin is pretty specific about which versions of a plugin have been reviewed and what the different security implications of each version are. Here's an example: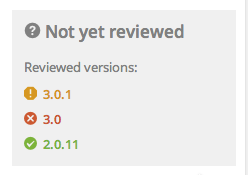 So what are you waiting for? Go and install the plugin and start checking the security of your plugins!