dxw women and Ada Lovelace Day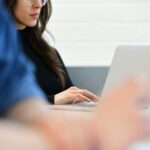 I'm proud to be able to shape and change the tech industry for women who join it after me
Ada Lovelace Day is an international celebration of the achievements of women in science, technology, engineering and maths (STEM). One of its aims is to raise the profile of women in STEM. So we asked 3 women from dxw to write about their careers and how they ended up working in tech (and some of the other letters in STEM along the way).
Leanne Coker, Service Design Lead
Engineering seemed an obvious career choice to me as a teenager. In school, I loved design and technology and got good grades in maths and physics. I also had a general sense that studying engineering would lead to "a good job" and financial security.
I was the first person in my family to go to university so this was important to me. I went to a girls' school that became an engineering specialist school when I was there. I sometimes wonder whether that had an impact on my career choice. But given only 2 out of 180 students in my year went into the field, I'm not so sure!
What did make a difference was having access to great facilities. The school design, technology, and science labs were very well equipped and it was an inspiring place to learn. A sixth form careers evening presentation from the Institution of Civil Engineers also stands out in my mind. They played a video of impressive bridges, highways, and railways and I remember thinking, "Wow, imagine leaving that kind of impact on the world."
That video probably had a part to play in what happened next. I went on to complete a Masters Degree in Civil Engineering and worked as a Civil Engineer for several years. I worked on big transport infrastructure projects including train depots, stations, signalling, and asset management systems.
My days were spent doing structural analysis, calculations, drawings, working onsite, and eventually managing projects. I learned about different engineering disciplines and became fascinated by the interfaces between them. I also came to understand that humans were the most complex component in every system I was designing. Their behaviours weren't predictable like steel or concrete, yet they were just as vital to a successful scheme.
To me this presented an irresistible design challenge that I went on to pursue via a postgraduate degree in ergonomics and human factors. It was nerve wracking moving into a new field several years into my career, and there were a few discouraging voices around me at the time. But I did my research, went with my instinct, and have never looked back. I also never needed to take a pay cut or time out of work during this transition – change is always possible.
I got a job as a Human Factors Engineer and spent a further 4 years designing train control systems. During this time I developed further interest in digital technology and agile working which led me to join dxw to broaden my experience in this area. As a result I've helped design and launch several digital services for the public sector and establish service design as a practice within the company.
I'm currently working in a very different area to where I started. But my previous experience and training helps me do the job I do today. Studying any STEM subject gives you a versatile set of skills that you can apply to new areas as your career unfolds. This is helpful in a world where technology moves so fast and new fields are emerging all the time.
Service design has only become established as a discipline relatively recently and it certainly wasn't a career option I was aware of as a student. But through project experience, changing jobs, and continuous learning I've moved with the times and found my way into a specialism that I really enjoy. Who knows where my career will take me next – I'm excited by the possibilities.
For me the best thing about my job is the impact you have. It's satisfying to work on things that address problems and make things better for people. And it feels good when I walk through a particular station, travel on a certain train, or visit a government website and think, "I helped make this real."
Lorna Harwood, Junior Developer
I think I've attempted to have a career in all the letters of STEM at one point. I didn't go to university straight after school and got a job instead. After a few years of working, I decided I wanted to be a research scientist and did an access course so that I could go to university. I went on to study maths and physics and was particularly interested in climatology. During my time there, I discovered coding and was inspired by other women working in tech.
There's a couple of things I would tell my younger self. There are no limits if you put in the hard work and effort, and don't be put off by male dominated environments. Being underrepresented is obviously a challenge and can take up more time and energy as you have to exert yourself to be heard and seen. However the flip side is that you often get a lot of support whether that's a formal arrangement or something more informal.
I've been on the receiving end of mentoring from Ada's List and also did coding courses with Code First: Girls. I wouldn't be where I am without them. Especially my mentor. She helped me to learn how to code by recommending loads of resources and checking in with me weekly. She also offered emotional support and we're still in contact 3 years later.
I'm proud to be able to shape and change the tech industry for women who join it after me.
Clare Young, Director of Delivery
I fell into STEM a bit by chance after a degree in geography and various internships in the third sector. After applying for the Civil Service Fast Stream as a Generalist, I was offered a place on the Technology in Business programme (since renamed to DDaT). My lightbulb moment happened on my placement at the newly formed Government Digital Service (GDS) where I saw the impact that user centred design thinking and accessible technology could have on public services.
Something I've learned over the years is that it's important to pass on knowledge and skills, but perhaps more important, to pass on confidence and aspiration. Being successful and happy at work is part knowing things and continuing to learn, and part accepting you have a place and can add value. If you can't see exactly where you fit in then ask for help to make space (many will thank you afterwards).
Tackling hard problems and delving into new areas (which many jobs in STEM do) takes many different skills and being part of a diverse team is the best feeling, especially when you're learning and achieving new things together.
A personal challenge for me is still finding it difficult to talk about what I do. I have a habit of oversimplifying things or dismissing the importance of my work. It can feel uncomfortable to be proud and talk about your achievements, especially when there are assumptions or expectations at play. But the more of us that do that, the better for everyone.
Finally, I've listed some unsung heroines whose work, I think, is changing the future face of STEM:
I love everything that Lauren Currie is doing about building confidence for women
Katy Arnold for her investment in interns, apprentices, and graduates at the Home Office
I find Daisy Onubogu's writing on racism and social justice clear, kind, and very helpful