I value working for an employee owned company because…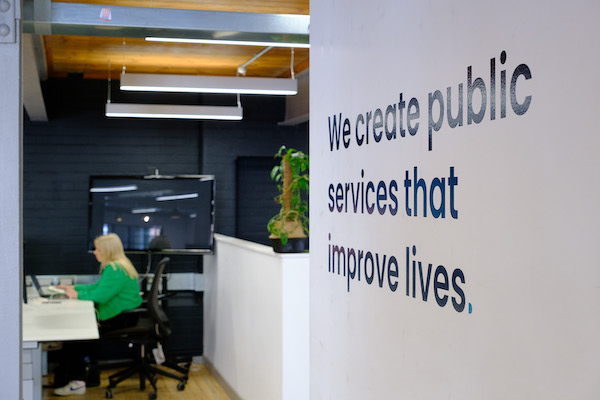 Being employee owned means that everyone has a voice, and we can make decisions in line with our values
We're 2 years into our journey as an employee owned company, and we decided to mark this year's Employee Ownership Day, by asking some of the members of our new Staff Council what working for an employee owned company means to them. Here's what they said.
Ksenia Horoshenkova, Strategy Consultant
For me, being employee owned means there's more potential for staff to have input into how the company is run and managed, because their voice has more weight attached to it. There are a lot of organisations out there that take their employees for granted and don't treat them well. I'd hope that being employee owned means we, by default, don't do that. Instead, we take steps to make sure that employees are appreciated and cared for.
I joined the Staff Council because I wanted to be able to input into the development of dxw as an organisation overall. And also to contribute to balancing growing a sustainable business that achieves its objectives, with being a workplace that protects employees' interests and gives them the opportunities that they deserve as smart, well-intentioned people who come to work here. For example, the chance to:
develop their careers
share their ideas and use their skills and strengths meaningfully
give and receive feedback
feel that their presence is valued in the organisation
My background is in business strategy and operations, so I understand the commercial demands on an organisation that has to be self-sustaining and make money. I also know about some of the negative impacts that a desire to be profitable, and to grow, can have on people day to day. I'd like to take my learnings from other places I've worked and either, prevent us from making the same mistakes, or continue to learn and understand so that we might be able to avoid making any of our own.
Ruxandra Popescu, User Researcher
I think being an employee owned company means we're more able to shape our direction. Whether it's the sectors we'd like to work in, or how we support staff. Hopefully, it means that we're better than most places at considering staff's interests alongside financial concerns.
The skills I bring to the Staff Council directly relate to user research – empathy, curiosity, analysing information and synthesising research. Because of my role, I'm used to listening to a variety of opinions and understanding how they can be merged into a coherent proposal.
I joined the Staff Council because it's a way of understanding dxw better, and a chance to find out what staff care about the most. I'll be able to help facilitate effective communication with staff so, if there's something that they aren't happy about, or that they disagree with, they can speak to someone and their views will be heard.
Georgie Moores, Associate Delivery Lead
I've come from a background of working in very corporate environments, where businesses are responsible to shareholders, or to founders who don't understand the everyday problems that can arise. Being employee owned means that everyone has a voice, and we can make decisions in line with our values, because we're not motivated by share prices.
For me, being on the Staff Council is a really exciting opportunity to be able to represent my colleagues. And also to feed in voices and opinions (and weird and wonderful issues) from my team in GovPress that maybe aren't seen and heard elsewhere in the company. Areas I'd like to focus on are maintaining an engaged dxw community as we grow. And supporting psychological safety against a backdrop of political and economic uncertainty.
Coming from a delivery background is helpful because a lot of what we do as delivery leads and project managers is about taking a holistic view of the team. So not just monitoring what it's achieving, but having a pastoral role too. This means:
listening to people
providing them with support
holding space for people to come with challenges they're having
As a member of the Staff Council I'll be able to do all this, then go and actually do something positive about it. It's going to be great!