Humans of dxw: from fundraising and comms to delivery lead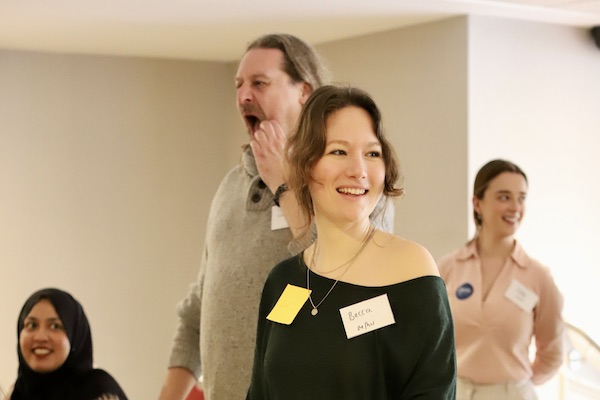 I could never have imagined doing a job that is so closely related to the digital world
If you'd have told me I'd become a digital delivery manager (or delivery lead, as we're called at dxw) when I was at school, I would have blinked in confusion and surprise. Partly because no one at school really explains very well that there are jobs that exist outside being a teacher, a nurse or a lawyer (or at least they didn't when I went). But also because I could never have imagined doing a job that is so closely related to the digital world.
I studied languages at university, French and Italian. And, other than a vague fantasy of becoming an interpreter that I never took too seriously, I had no idea what I 'wanted to do' with languages. But it turned out, that wouldn't really matter.
My first job was at an international development charity. I loved it initially, I had a broad remit as Fundraising and Communications Assistant in a small London office of a large East African charity, which meant I got to have a go at different roles depending on what was going on.
I wrote fundraising appeal letters sent to thousands of supporters, and processed the donations that came back. I managed the website and social media content, running a Pinterest campaign which gained support from Stephen Fry and the Gates Foundation. I organised fundraising Christmas carol concerts, wrote speeches for the CEO, and op-ed pieces for The Guardian. It was exciting and every day was different.
I learnt so much about what it is to be part of a team, and an organisation more broadly, and importantly how to navigate the world of work. But the greatest opportunity I took was managing a DfID sponsored film project, demonstrating the outcomes of a maternal and sexual health project in Tanzania. This was my first real taste of project management, and it would point me in the direction of project and delivery management roles in the years that followed.

Ten years on, I've worked in project management at a brand language agency, helping organisations like Sainsbury's, Unilever and Ofgem understand how to create a written identity and sound like one united voice. I've led a small project management team at a digital agency creating and managing websites and apps for ecommerce and sports clients.
And most recently, I worked for the BBC's Research and Development department, as a project manager in their Future Experience Technologies team, looking at the ways the BBC can best serve audiences in the future through emerging technologies. I project managed teams working on things ranging from AI in media production, broadcasting using game engines, experiential audio tools and the future of in-car entertainment.

During that time I've launched a flagship SaaS product (and helped sell it to 3 championship football clubs), I've contributed to and edited a white paper on a film shoot to create AI editable footage (which I also produced and project managed), I've launched a flexible podcasting app, and I've coached many teams on agile delivery. Another thing I wouldn't have believed at school – being a digital project manager can be super fun and full of varied and rich opportunities!
In amongst all that, I took 2 years away from the 9-5 to work for myself as a freelance yoga teacher and English tutor. I've always enjoyed teaching and I wanted to experience the freedom of deciding my own hours and not looking at a screen all day. It was everything it was cracked up to be (including very difficult to manage financially as a London renter). And contrary to what many of my friends worried about at the time, I don't think it negatively affected my career prospects. I'd do it again in a heartbeat, and would recommend anyone to try doing something different.
In all of these roles, being a good communicator, and someone who enjoys trying to understand people, has underpinned my successes.
I've been at dxw for about 6 months now, and so far, it's been everything it's cracked up to be too. Being part of an organisation working on projects that serve the public need means you're surrounded by people who care about each other, and about doing good work. I've realised over time, that's one of the most important things for me when it comes to work. That, and being challenged – coming up against new and different problems to solve so you feel like you're learning, that's also something I need from a job.

I really enjoy delivery management – the variety and the focus on people and communication is something that constantly keeps me drawn to this type of work. Who knows where I'll end up in 10 years, but if I'm still in delivery I'll be pretty chuffed with that.