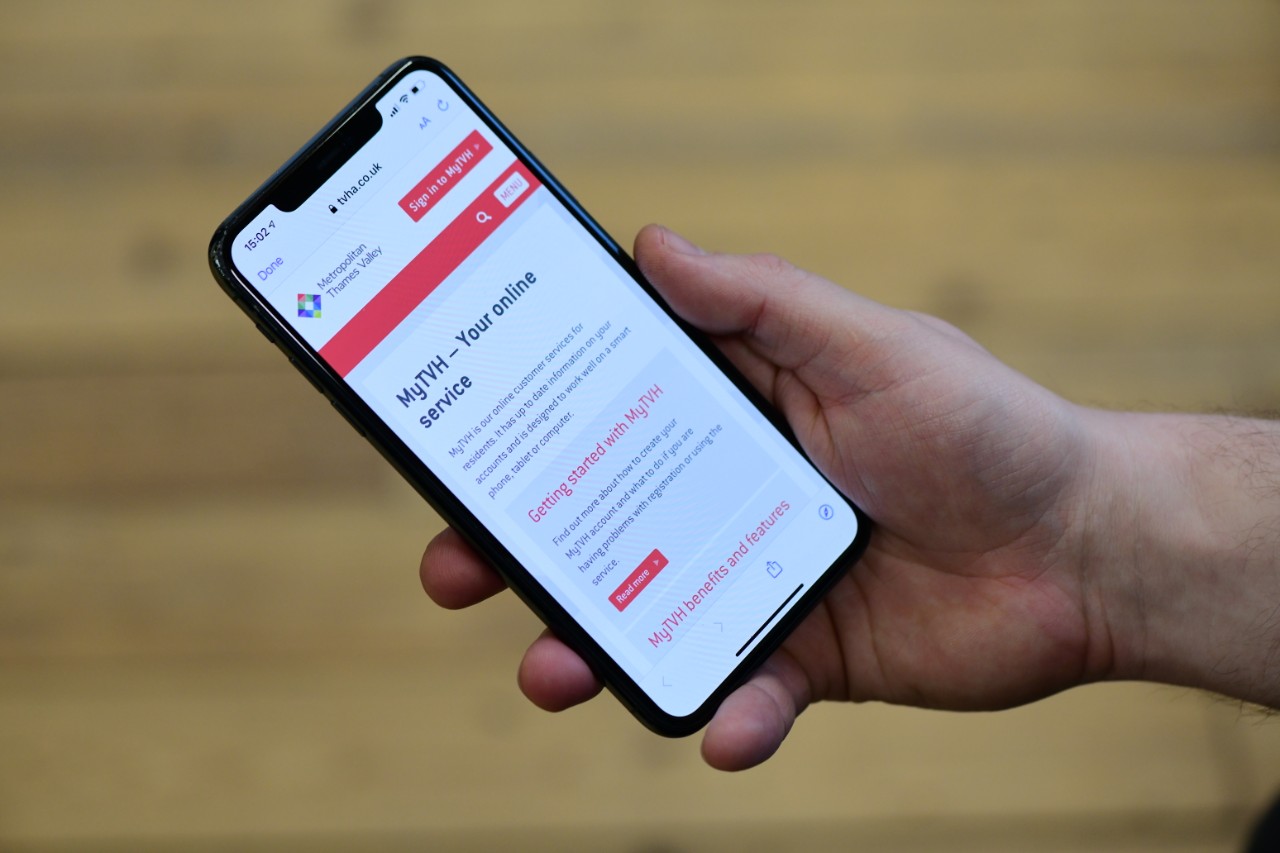 This was a long term transformation partnership to create services that make life better for residents
Metropolitan Thames Valley housing association (MTVH) asked dxw to work with them to transform their services for residents. This was a long term partnership spanning 8 years, during which we helped MTVH build their own digital capability and become fully self-sufficient
Result
We partnered with Metropolitan Thames Valley Housing to create MTVH Online, a new online platform for their residents, and in the process developed their own internal skills base and embedded a digital culture.
MTVH Online has completely transformed the user experience and encouraged significantly more residents to go online. By developing a simple, practical service, we've helped to create something that makes life better for residents.
The service also saves time and money for call centre staff who are now able to focus on more complicated queries and supporting vulnerable residents. It has been widely cited as an example of innovative digital services in housing.
Over the last 6 years, MTVH Online has taken over £57 million in payments and received over 11,000 repair reports. The use of online payments has increased from less than 10 to over 80 percent.
It was clear very early on that partnering with dxw would mean a very different approach to building services. We knew we were going to create good digital services that meet the needs of our users, but what we didn't anticipate was the impact it would have on how we organize ourselves and our approach to problem solving. We've learnt so much working alongside dxw as one team. 

Matthew Cohen, Head of Digital at Metropolitan Thames Valley Housing
What we did
MTVH brought in external expertise from dxw and asked us to help them build their internal capability, transferring knowledge on how to build user-centered services.
They asked us to help them increase the number of residents using their online customer service to pay rent, log and track repairs, and register and pay for parking permits, and reduce the burden on their call centre staff.
Their goal was to build a digital service so good that residents would prefer to use it. They needed a partner that could address complex back-end technical requirements and ensure that user needs remained at the core of the project.
At the beginning, we provided a full product team to work with the IT manager at the association. Over time, we helped MTVH build their own product team and our developers paired with theirs as they got to grips with the product.
Towards the end of our partnership, we were acting in more of a consulting capacity with one of our senior technologists and a delivery lead, the last 2 dxw members on the team.
To get there took time and continued effort. With support, MTVH adapted to a new way of working and have been able to scale the MTVH Online service, which is now accessible to a resident base covering 58,000 homes.
Building MTVH Online
The MTVH Online service makes it easier for residents to keep up-to-date with their account, find information and get in touch with the right person when they need to.
Running a service like this, alongside an existing call centre, saves time and money and means associations can provide a better all-round service.
MTVH and dxw worked with residents and staff to gather requirements. We wrote user stories, analysed the ways in which residents used the existing website and ran exercises to understand how different user groups intuitively seek out information online.
The main priority for residents was to make payments and book repairs online quickly and easily. We identified lots of issues with the previous payment system. For example, users had to use one set of credentials to log on, and then remember a completely different set of credentials to use the banking service to pay their bills. Error messages were vague and meant users couldn't sort issues for themselves: 'There was a problem charging your card.'
We maintained this focus on MTVH's residents throughout the project, ensuring that all functionality was tested with users, refined and tested again. The service has several components, all of which dxw built using Ruby on Rails. Each is tailored to the problem it solves: one for the resident-facing service, one to manage back-end integration, and another to manage card payments.
From its introduction, MTVH Online has provided an efficient and secure online service for residents. In the 6 months following its launch, 75% of registered users returned to use the service after registering, compared to only 7% for the previous site.
New features have been added to the service continuously, allowing it to operate more efficiently and meet an increasing number of residents' needs. In 2018, for example, we switched payment provider from a traditional high street bank to Stripe, a specialist online payments provider, saving MTVH thousands of pounds.
What next
MTVH are now able to operate independently. They want to take what they've learned and apply it to other parts of the organisation, as well as continuing to improve their service based on the ever-changing needs of residents.