A new intranet for DCLG (with more big savings)
Since January we've been excitedly working on a new intranet for the Department of Communities and Local Government: a wholesale replacement for the previous collection of out-of-date and restrictive systems that DCLG had been using. We're very happy to announce that the site went live to all staff members last week, and has been met with very positive feedback.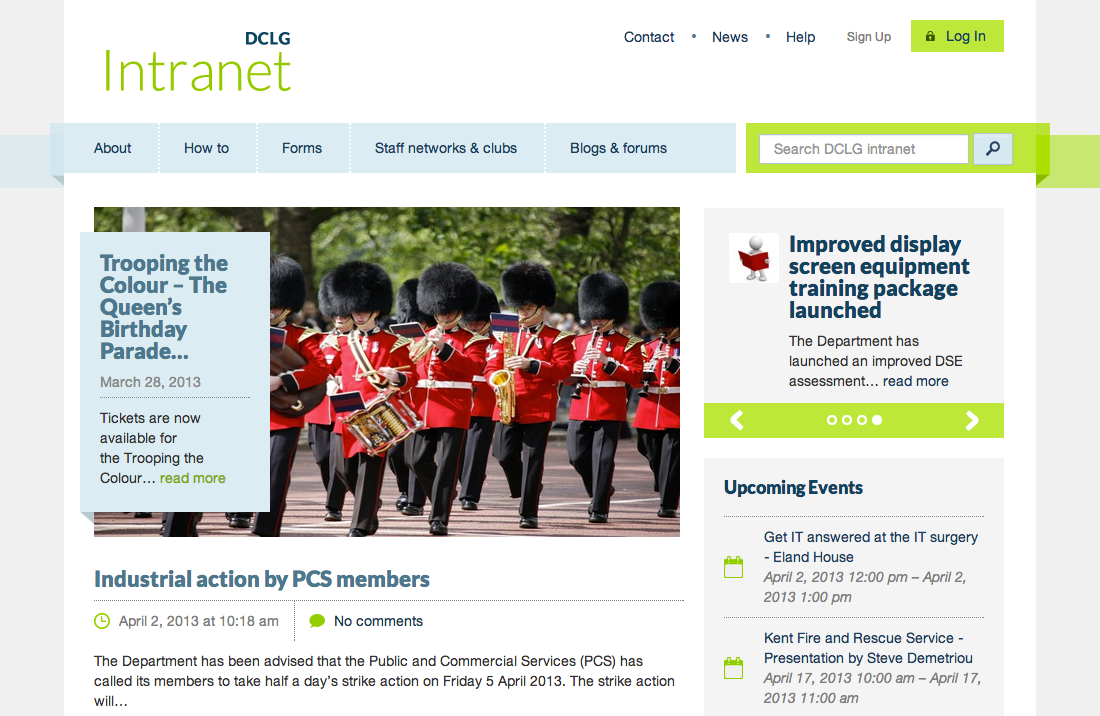 DCLG came to us with a clear brief. The new site needed to:
Have an improved content structure
Be redesigned, with a much simpler layout
Be easier for admins to maintain
Promote interaction between DCLG staff members
Importantly, DCLG wanted us to work with staff to test decisions and assumptions about how all those things should be done.
The project started with some great research, card sorting and wireframes by Helpful Technology. Inside DCLG there was some debate between sticking to the current familiar layout of the intranet and developing a new, simplified version to which users would have to adjust, but which would ultimately be easier to use. Just how much information should there be? Can we squeeze in an extra sidebar? How can we accommodate the communication requirements of different internal teams?
DCLG were very keen on user testing their ideas. So, with multiple wireframes in hand, they gathered staff members to test the proposition and quickly proved that simpler was indeed better.
Once agreed, the homepage was designed, re-designed and re-designed again with opportunities for DCLG staff to respond and feedback at every stage. Of course, this is just the first step in a longer journey: further work is planned based on more feedback coming from users.
WordPress allowed us to quickly fulfill some of the more social aspects of the intranet:
A multisite set-up and custom template means that staff members or teams can run their own blogs, and customise them too.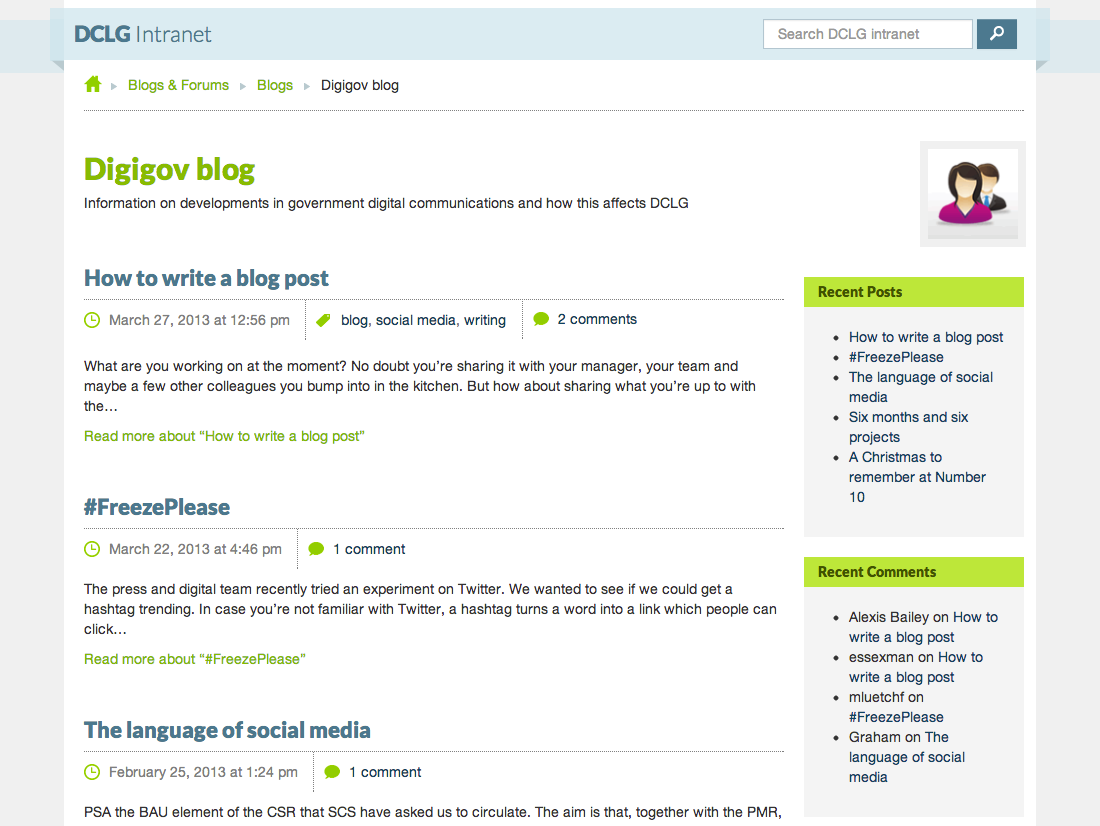 We used widget areas in the footer of the main site to keep up-to-date conversation information from all sites on every single page: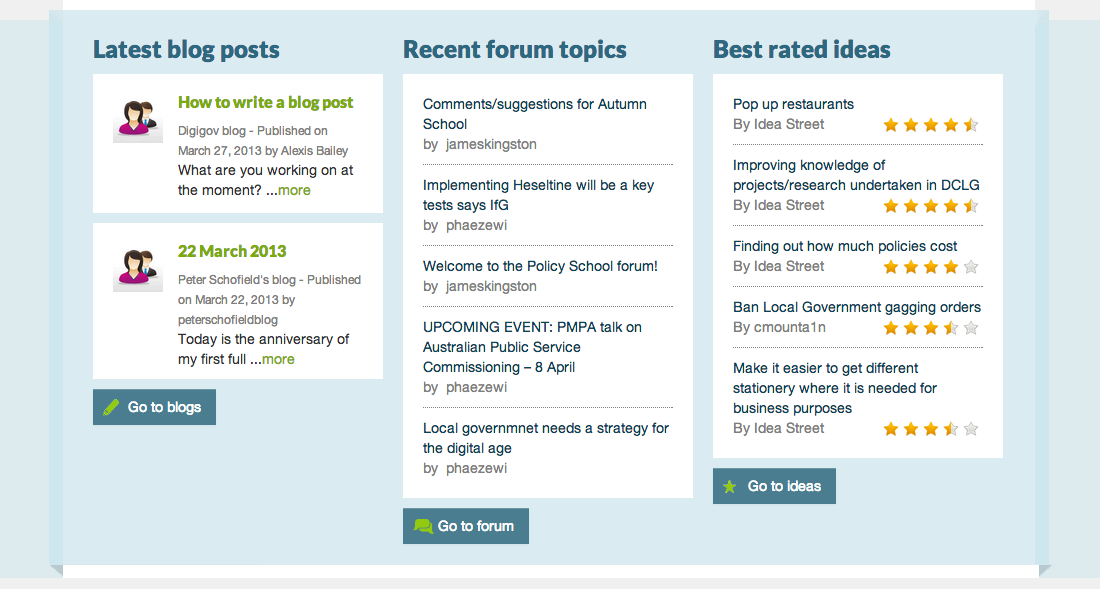 Using plugins we integrated an idea management tool into the main site. DCLG had been using an external tool previously which had a small set of dedicated users, but the lack of integration with the main site was limiting growth.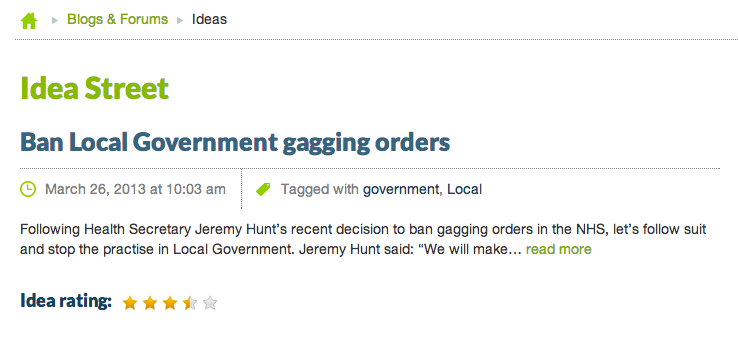 DCLG now have a brand new, beautiful, user-tested intranet with staff buy-in and a solid information architecture.
And, hot on the heels of delivering similar savings to the Department of Health, we've helped them cut their costs by 92%, saving £69,120 a year.