Our approach to inclusive and accessible design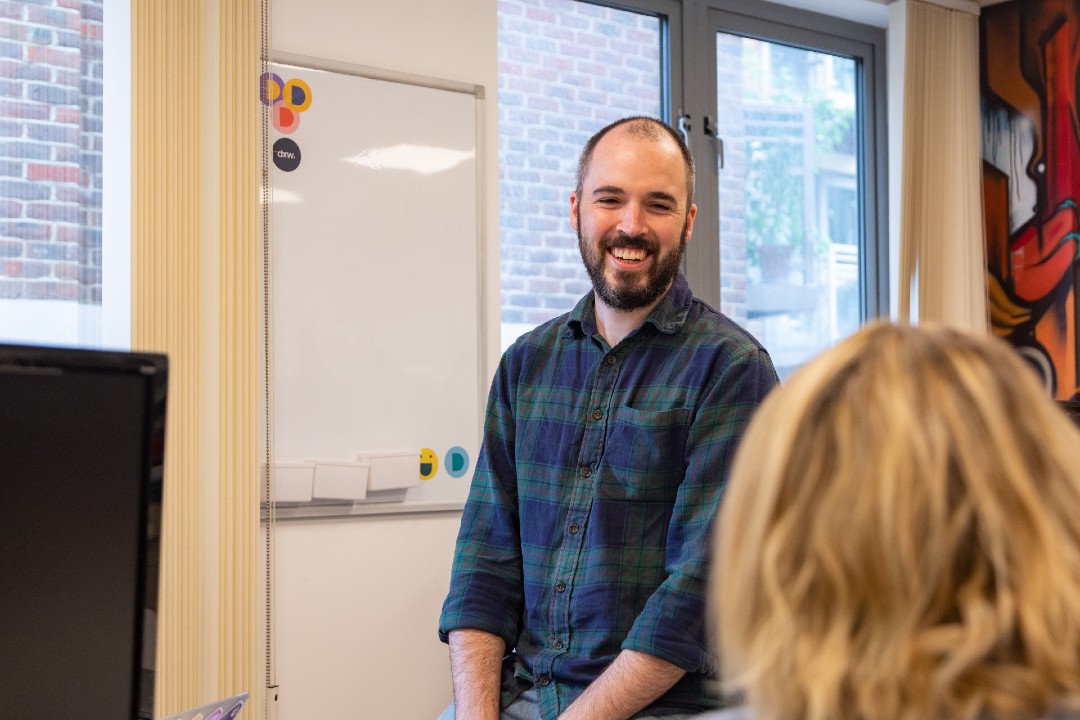 We help teams understand the needs of all their users, and use research activities that everyone can participate in
Good design as a strategy at dxw means inclusive and accessible design. We design services, products and content that are accessible to all and we make sure the change process is as inclusive as it can be.
We do this by:
designing services, products, and content so everyone can use them

making sure our multidisciplinary teams are as diverse as they can be
How do we design services so everyone can use them?

"We make research inclusive" is one of our 8 research principles.
Researchers at dxw know how important it is that public services work for all the people who need to use them. We help teams understand the needs of all their users, and use research activities that everyone can participate in.
We always start projects by speaking to users and trying to understand who they are and what they need to do. We use a variety of research methods to draw out different insights, like interviews, community immersion, desk research, and group sessions.
By exploring the context and history of a service or problem space, we can learn which groups have been excluded or experienced poor access in the past. Our inclusive approach involves centering these groups in the design process.
We know that there are many different reasons why people wouldn't be able to use a service or would have a harder time accessing it, so we don't just evaluate and make decisions based on things that will benefit the majority. Instead, we prioritise ideas that promote equity.
We design with people, not just for people
We develop and run collaborative design sessions and workshops where users are the designers. (Our Research Principal, John Waterworth, will be talking more about how we can make online workshops more accessible and inclusive at Service Design in Government later this month.)
We use co-design methods such as design sprints to make sure users and stakeholders get truly involved in the design process. We always try to use the language of our users and this will vary depending on whether we're designing for experts or the general public.
By testing regularly with the people who'll be using the service and involving people with accessibility needs, we can test how our service will work for them. We have many ways to test our content, like reviewing whether the labelling of buttons or links is consistent across the service, and whether there's a logical reading order on all pages.
We use the GOV.UK Design System as a foundation of comprehensive research and experience, which aims to be representative and relevant for all its users. This helps us to create inclusive services, consistent with GOV.UK where needed, including accessible styles, components, and patterns which we can develop and build upon in our own work.
We adhere to all the success criteria set out in WCAG 2.1 – (Perceivable, Operable, Understandable, Robust). And we apply the recommended techniques from the guidelines to our work over all aspects of the design and build process, along with authoring accessible content.
We strive to make our multidisciplinary teams as diverse as they can be
Multidisciplinary teams play a pivotal role in shaping the experiences and outcomes of the people we build for, through research, design, and code.
We're aware of the structural barriers and inequalities in society, and we want to do more to tackle inclusion and equity in our work and the services and products that we build. So we actively consider our roles, mindsets, and toolkits for inclusion and equity.
We hire with diversity and inclusion in mind, aiming to build teams that more closely represent the people we design for. We write our job descriptions to be as inclusive as possible, and our recruitment system is designed specifically to reduce the scope for unconscious bias.

A recent example of inclusive design – Southwark air quality
We've been working with Southwark Council on how poor air quality is affecting priority communities and what the opportunities are for the council to intervene to support changes in behaviour that would mitigate the impact of air pollution for them.
We're looking into the more impacted communities and finding ways of giving them a voice and understanding how they are using existing interventions (in this case an App called AirTEXT) differently, which is currently exacerbating the existing health inequalities rather than making them better.
The change process is inclusive and combines co-design activities with research methods such as community immersion, cultural probes, and ethnography. Our evaluation considers a range of factors, not just focussing on those things that will benefit the majority. This provides evidence which means the ideas which promote equity get prioritised.