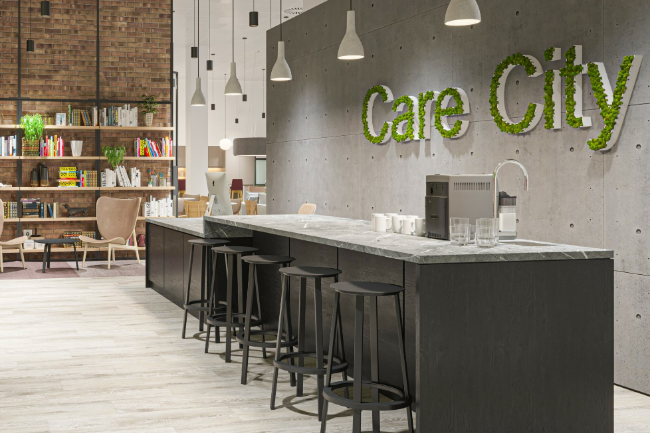 In 3 months we worked with Care City to create and launch a new and improved website
Care City needed a new website to better reflect their mission, the future direction of the organisation and promote their new hub
Care City is an independent community interest company (CIC) founded by the London Borough of Barking & Dagenham and the North-East London Foundation Trust. It's an innovation centre for healthy ageing and regeneration with a mission to work with, learn from and support the East London community to live happier, healthier lives.
As an ambitious, forward-looking company, Care City understood the importance of having a modern website and publishing tools. They needed a new website to better reflect their mission and future direction and make it easier for the team to add different types of content.
Unsure about what the new website might look like, they asked our GovPress team to help. 
The result
It took the team 3 months from starting work on the project to getting the new website live. The new site is much easier for a wide range of users from across the local community to navigate and find the information they need.
With an improved content management system (CMS,) it's also quicker and simpler for the Care City team to update the site.
"We gave dxw a challenging brief! Our website has to appeal to a number of diverse audiences including Funders, Commissioners, Technology Partners and Primary and Social Care networks. And as a Community Interest Company, forge a sense of belonging to the local East London community.

"From initial designs, to daily check-Ins, through to the patience of the team while I upskilled on a new CMS, whilst maintaining a sense of fun, dxw has made the journey to a new website one of ease, creativity and learning."

Rachel Fuller, Communications Director at Care City
What we did
We knew we needed to create a site that would work for a range of audiences with different needs. This included creating image led content for users whose first language isn't English, as well as designing for different types of content from complex reports to action buttons. The Care City team was also conscious that their existing CMS was difficult to use. This was eating up time for their marketing team and preventing them from becoming more content-led.
Starting with the content
The Care City team understood that a lot of their existing content was long, relatively complex, and not created with accessibility in mind. So we began by bringing in one of dxw's content designers to work with them on a content audit, thinking about what content needed to be migrated over to the new site and what that might look like on a page. Our team of designers and developers then worked with the Care City team to understand their goals for the site, both in terms of functionality and design. 
Working collaboratively
We worked in close collaboration with the communications director, sharing mock pages as we progressed through the build. The Care City team was really invested in the project and joined us at daily stand ups which helped to speed up feedback loops. We built some flexibility into our timescales to give us the time to properly reflect on feedback and understand what's needed from the site so it works for everyone.
This project is a great example of what can be achieved in a short space of time. The Care City website is now live and we're really pleased with the results.