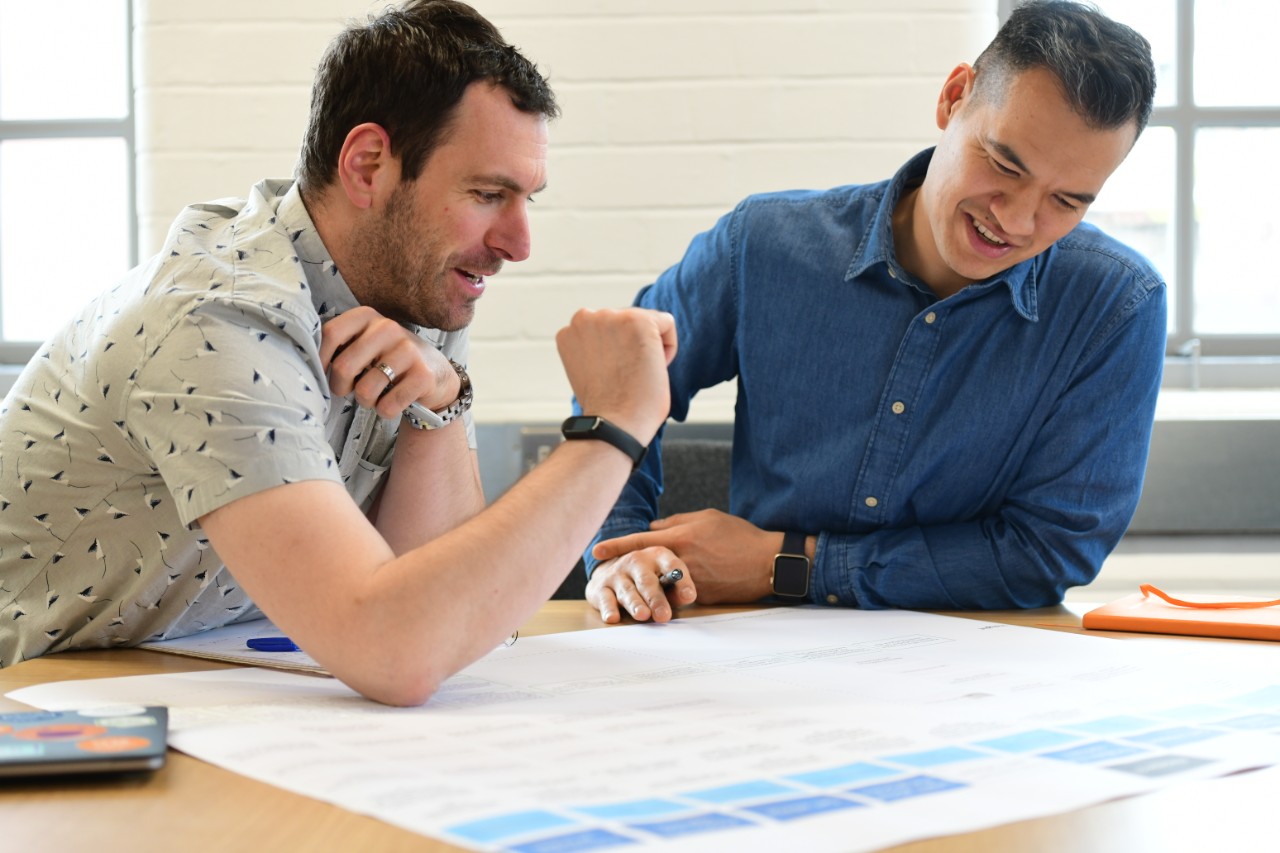 There was a huge amount of content covering over a year of international discussion
As part of an OECD sponsored project, the Government Digital Service (GDS) asked dxw to help create something that brought together global expertise on the ICT agile commissioning lifecycle for other governments around the world
The UK Government, through GDS, is leading an Organisation for Economic Co-operation and Development (OECD) sponsored working group to bring to life how agile principles can be applied to ICT commissioning for international governments and markets. The working group had existed for over a year but hadn't yet found a way to share its work.
Result
The initial output has been a playbook of best agile ICT commissioning practices that's now openly available for use by international governments and procurement professionals.
ICT commissioning goes wider than just procurement – it includes business case writing,  procurement and delivery. The playbook sets out how to address the main issues faced by governments and explores what works and what doesn't, sharing real life examples.
It was presented to the OECD E-Leaders Conference 2018 in Seoul by Warren Smith, Global Digital Marketplace Programme Director, and will be continuously iterated, based on its use throughout the OECD network of countries and beyond.
What we did
International user research with our partners
We teamed up with Oxford Insights and David Kershaw, an agile procurement expert, for 10 weeks to run an international project that included user research sessions with participants from different continents. The Oxford Insights team then co-located with us at dxw HQ as we designed and built the playbook.
Our user research sessions included different procurement and commercial people from around the world, as well as talking to people from central and local government and government suppliers in the UK. The research covered Mexico, Uruguay, Canada, Norway, Portugal, Australia, Chile, Finland, New Zealand and the United States.
We also ran a number of internal co-design activities with our stakeholders, including the programme director and a commercial strategy advisor, where we experimented with different ways of visualising the agile commissioning process.
Testing our findings against real life examples
We used case studies to test our findings and make sure real life experience aligned to the ways of working and barriers we were identifying. We also gathered lots of first hand information about experimental commissioning design from international governments who were looking to move their practices forward.
Using content design to help us distil and present lots of information
We brought our findings together in the playbook, distilling the best practices and issues we'd identified and grouping them into key themes or 'plays'. These include things like focussing on the problem and the desired outcome rather than designing the solution, starting with users' needs, and learning to embrace and expect change and move away from more rigid traditional approaches.
There was a huge amount of content covering over a year of international discussion and collaboration. Our content designers used their expertise to focus on the main principles and bring together supporting information and case studies in a helpful and accessible way.  
What we learned
There are multiple users in the ICT commissioning process. Many governments understood the need to build services around citizen needs, but didn't see suppliers as users too. A number of suppliers said bidding questionnaires and bidding processes were often barriers to suppliers finding the right tender and in return, governments finding the right supplier.
Doing things differently doesn't mean breaking rules. A culture of rigidly 'sticking to the way we've always done things' prevents innovation and stifles the marketplace, which in turn results in bad procurement practice and the wrong results. It also prevents the procurement process from being agile.
Leadership is one of the biggest barriers to transformation. Where there's political will, there's a way. Transformation is very difficult when there aren't leaders advocating and enabling change by removing blockers and promoting different ways of doing things.
Sharing best (and failed) practices helps spread innovation. Using real case studies to share stories of success and failure encourages innovation and helps demonstrate how reform is possible.