The UK's version of data.gov, ably put together by the Cabinet Office, has just launched in private beta. We got to have a sneak peak, and it's great!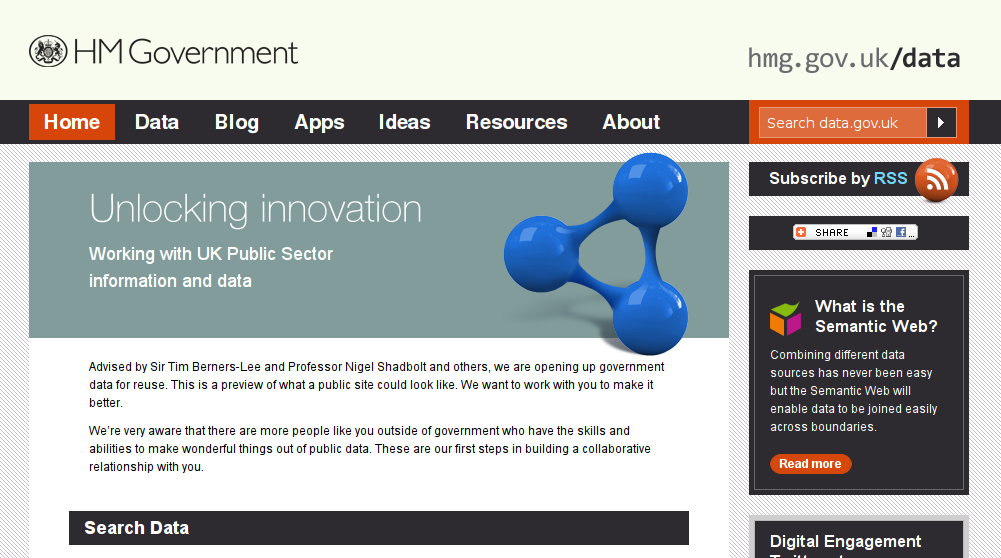 The site is a blend of the US's equivalent, data.gov, and Directgov | Innovate. It's got a listing of available data packages, powered by the Comprehensive Knowledge Archive Network, and user-generated lists of apps and new ideas. This is just right: the data you need, combined with a way to promote the things you make and a place to get ideas if you've got itchy typing fingers but lack inspiration.
It's not perfect. Conspicuously missing is an organised way to browse data sets: but that's coming, along with some other tweaks and twiddlings that'll improve the site's usability.
The site is powered by Drupal, with packages catalogued and hosted by CKAN. Meanwhile, data.gov.uk hosts a data store powered by Talis that can scale to 100 billion triples and is hosted on Amazon EC2. The system is federated, so departments can add and control their own data, lots of which is available as RDF, with the remainder downloadable in spreadsheet form.
Speaking of spreadsheets, they've even written an app that departments can deploy in-house to convert spreadsheets into RDF (kudos to John Sheridan!) which makes it much easier for departments to produce structured, linked data.
This is all working now, and was put together by the team at the Cabinet Office in the last three months. This is a massive achievement, and it sounds like it's just the beginning: they have big plans. User submissions for new datasets. Metadata to describe provenance. More data sets on the site. More data as RDF. Organised browsing for packages. Source code releases. The list goes on.
This is such an encouraging thing to see. No expensive procurement exercises for clunky, bespoke sites: instead, we have the right tools for the job, joined together. Simple things that do one job well, combined to form a more complex whole. It's the Unix philosophy in action.
This is how all Government IT should work.
Our hearty congratulations go out to the team at the Cabinet office, with special thanks to Richard Stirling for spilling some of the beans. I had lots of questions and nitpicks, and every single one of them was answered reassuringly.
They've got a plan, and it's a good one.