Last month was UKGovcampX, an event close to dxw's heart. I've been a regular attendee and sometime campmaker since 2013, but this was my first one since leaving the Civil Service so I was looking forward to seeing colleagues and friends. This isn't a comprehensive account of the day – just some thoughts.
I took part in a fascinating discussion on civil service standards in times of significant political change. There are definitely challenges in having this type of conversation in the open so I'm very grateful for those who pitched, and to Catherine Howe for excellent facilitation.
I ran a session with Vanessa Williams and Alex Blandford on the last 10 years of UKGovcamp, and the state of the network. As @pubstrat says, govcamp is useless, but it's certainly doing a lot of heavy lifting in the community. We're planning to continue this conversation so there'll likely be more on this later.
A more detailed write-up of one session follows, but here I'd like to say thank you to all the people who make UKGovcamp possible.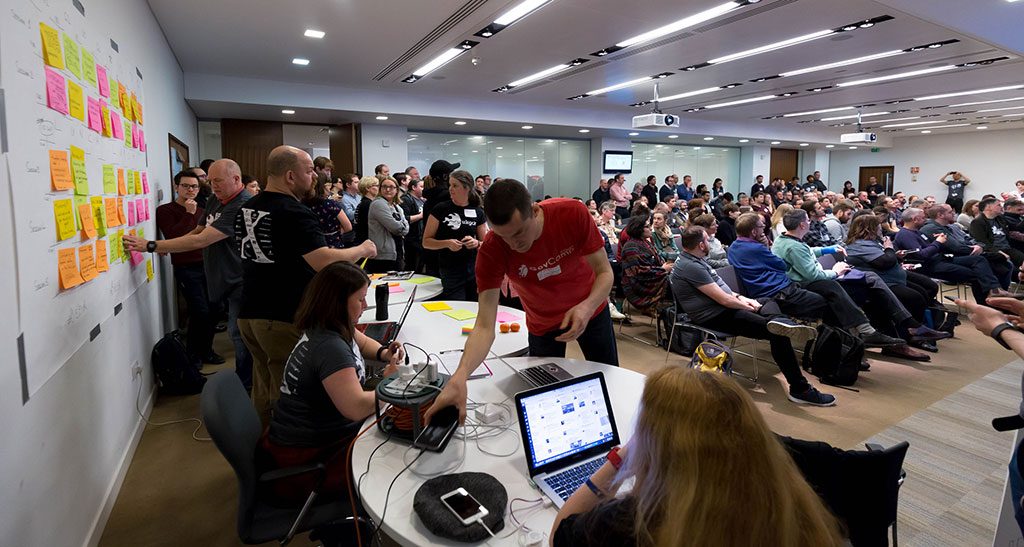 The state of procurement
I'd pitched a session on procurement, which was merged with sessions by David Bicknell of Government Computing and Ian Makgill from OpenOpps. Big thanks for Ed Saperia for writing up the notes. I wanted to bring my experience of procurement from both sides to the conversation, and to find out how buying teams and other suppliers were getting on with the Digital Marketplace, particularly the Digital Outcomes and Specialists (DOS) framework.
There have been big improvements in government procurement over the last few years, like the G-Cloud framework, and good intentions behind DOS. However, the reality for SMEs is still challenging. For instance, David talked about the new consultancy framework and the high barrier to entry that's been imposed. A small company with specific and targeted expertise is likely to struggle to prove the required 2,200 days experience over 12 months.
Ian shared his insight from OpenOpps. Tenders are getting larger and they're being awarded to fewer companies. This doesn't align with the government's target to spend 33% of 'procurable spend' with SMEs. There doesn't appear to be a definition of what 'procurable spend' actually is, so departments account differently for it.
I shared some of my experience of being on both the buying and supplier sides of government procurement. I wondered whether other SMEs and buyers had encountered similar problems, and whether we'd be able to make some practical, tangible suggestions. What follows is a summary of that discussion with the group that attended the session at Govcamp.
On the opportunities available
Some opportunities have rather narrowly drawn criteria. We at dxw are curious about whether the buyers already have a preference – for instance, an incumbent – and we don't want to be used as spreadsheet fodder. This sort of "competition" benefits no-one, and from an SME's perspective, the overhead is substantial. There are certainly times when it would be in everyone's interest to simply appoint (openly, and transparently) a supplier that's known to the buyer, although we do understand that it can be difficult to get approval for this.
We've also seen specific technologies being preferred from discovery stage onwards. For example, a recent opportunity asked for experience of evaluating OneDrive for Business, rather than experience of evaluating cloud collaboration tools. This can exclude many open source solutions and limits the pool of suppliers who could be shortlisted.
Providing evidence
dxw is often asked for evidence of a capability, like 'understanding and validating user needs' or 'proven successful development of back-end technologies, databases, developing APIs, meeting data standards, and experience of GitHub', by giving an example of work with reference to specific people who did the work. We're asked to do this in 100 words, which gives little room to do more than provide assertions, rather than evidence. While many of the criteria are perfectly reasonable, it's difficult for us to convey the context, demonstrate our understanding and approach, and explain the result, all in fewer words than this paragraph contains.
It would be great to encourage buyers to experiment with different formats for asking for evidence. A case study would demonstrate many of the criteria, while providing a more coherent narrative than 15 100-word paragraphs. In some circumstances, blog posts might be more useful evidence. And there's no substitute for meeting potential teams in person to assess cultural fit.
Meeting the criteria
Our team here has also seen some requests for evidence that stretch beyond 2000 words with deadlines as short as 2 working days. Although we understand that timescales are often tight in procurement, this puts SMEs at a disadvantage, because the people who write the proposals are the people who work on projects. Larger companies will have their own bid teams who are better able to respond to shorter deadlines. We'd therefore like to see a commitment to allowing at least 5 working days for requests for evidence.
There are still opportunities going out with repetitive criteria. dxw has seen one recently listing 'demonstrate an understanding of and ability to deliver compliance with the government's Service Standard' alongside 'detailed understanding of government digital service standard and Technology Code of Practice, including GDS service design manual and wider industry-standards'. In addition to this, buyers are asking for substantial volumes of prose, in order to reach a shortlist stage. This means that buying teams are burdening themselves with short novels to evaluate – for instance, a recent request for up to 1,500 words went to 33 suppliers, which could result in 49,500 words.
Evaluation
Lastly, we find that evaluation of evidence differs wildly. We've submitted the same answers to the same questions to different teams and received scores at both ends of the scale. We also find that feedback is variable – sometimes it's detailed and specific, and sometimes there's none. While we also appreciate that it's difficult to give feedback to so many suppliers, mandating feedback would be at least a recognition of the effort that goes into applying.
Suggested advice
Be clear about what the criteria are and what you want suppliers to demonstrate
Set word limits proportionate to the questions being asked
Set reasonable deadlines so smaller suppliers have the time to respond
Increase transparency of decision-making and provide useful feedback
Always include an approximate budget for the work
Thanks to David Pearson for the photo.