4 steps to improve your digital maturity with North Lincolnshire Council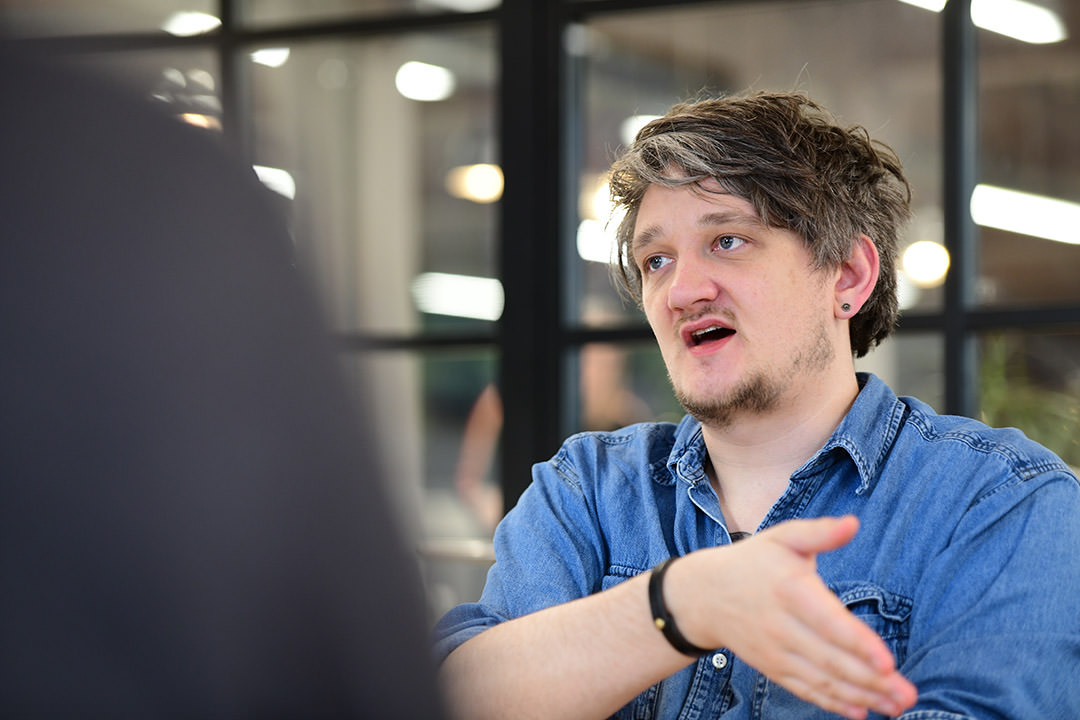 Understanding their digital aspirations is the next step with this transformation
dxw recently completed a project with North Lincolnshire council to assess their digital maturity. Councils are large organisations that deliver a huge number of services to their residents and businesses, so understanding how well set up the environment is to deliver meaningful change is an incredibly valuable exercise.
North Lincolnshire had 3 main aims from this project, to:
assess their organisational readiness for change

enable an improved customer experience

create a practical roadmap to provide the best services for North Lincolnshire
In this blog post, we'll share how we approached the brief, the tools we used, and the outcomes of the assessment.
What do we mean by digital maturity?
Defining digital – and digital maturity – was a critical first step. Digital means many things to many people. As we explained in our earlier post about our approach to measuring digital capability, we use Tom Loosemore's definition:
"Applying the culture, processes, business models & technologies of the internet era to respond to people's raised expectations".
North Lincolnshire council has already been on an impressive transformation journey. They've centralised services, rationalised their physical estate, introduced new technology and have embedded flexible and modern ways of working.
Through doing this they've developed a culture of embracing change and seeking ideas for doing things differently. Understanding their digital aspirations is the next step with this transformation, and the one that will enable them to re-imagine and re-design services for residents and businesses.
How we approached assessing digital maturity at North Lincolnshire
Step 1: Identify your priorities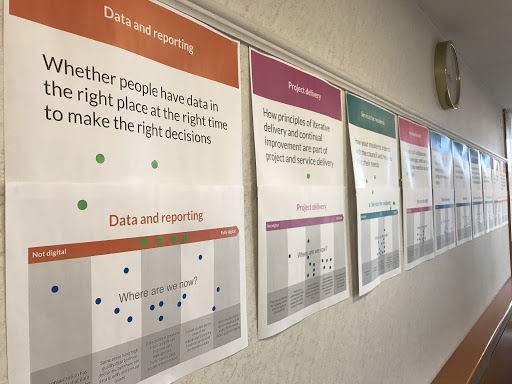 We kicked off the project with a workshop with senior representatives from across the council. Starting with a discussion about digital and design thinking, we asked them to share their views on the council's challenges, opportunities and what they felt couldn't be changed in the organisation. It was encouraging to hear a lot of people suggest "nothing" couldn't be changed!
We presented our 11 aspects of digital maturity and asked them to rate where they felt the council sat within each one. They were then allowed 3 votes for priority areas to focus on as part of the assessment.
Through this, we established 5 priority areas for the council to base our discovery activities on:
digital skills and capability

– the level of digital capability across the council – the right skills in the right places

data and reporting

– whether people have data in the right place at the right time to make the right decisions

culture and learning

– the extent to which digital learning is integral to the council's culture

services for residents

– how your residents interact with the council and how you meet their needs

user insight

– how user research informs service and product development at all stages
Step 2: Establish where you are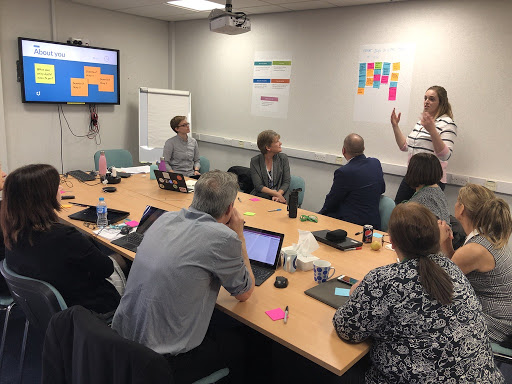 The challenge with an organisation like a council is that they provide hundreds of services to their residents and businesses. With a digital maturity assessment, you want to ensure you are collecting insight from across those different services to ensure a balanced view. We relied on our key stakeholders to give us a steer on this to ensure our time was used effectively.
We used a range of activities to capture insights.
Journey maps show the process of change
We used a journey mapping exercise with the digital enablement team to understand how projects are initiated, triaged and implemented. It highlighted aspects around governance, capacity and capability to implement change.
Empathy maps describe the types of users served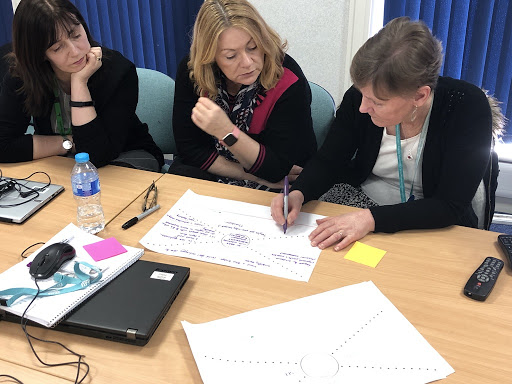 We used empathy maps with service managers to capture their perspective of the people they provided services for. These maps demonstrated some of the perceptions and expectations of the council and how they provide services.
After service managers had created a picture of their service users, we asked them to share any service improvements they had been thinking about to feed into our final workshop.
One-to-one interviews dug into details
We created an overarching interview structure, which we tailored to each individual we talked to. This included a mixture of general questions around digital and the council, as well as more focussed questions on one or two of the assessment priorities.
Quick tools to capture further insight
As our time for this project was limited, we couldn't devote one-to-one time to all of the groups we wanted to speak to. To ensure they could contribute in some way, we used light touch research methods.
We sent out a survey to digital champions to capture their views on several aspects of the council from ICT and digital skills to culture and learning.
We collected some anecdotes from North Lincolnshire residents by running guerrilla style interviews at their pilot program "Scunthorpe Central". Here we learned more about what services people were accessing, how they knew about them and how and why they had chosen to access them.
Step 3: Reflect back what you find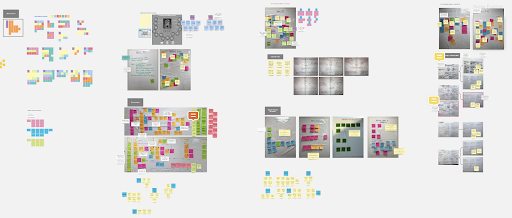 It's crucial that findings and recommendations are presented and communicated clearly, and that stakeholders recognise the positive things you find about their organisation, as well as the areas where they can focus efforts to improve.
We brought back together the senior leaders from the council for a final workshop where we played back what we learned and our ideas to take forward. We also worked with them to co-design ideas for exemplar projects to kick-start their transformation and improve maturity through delivery.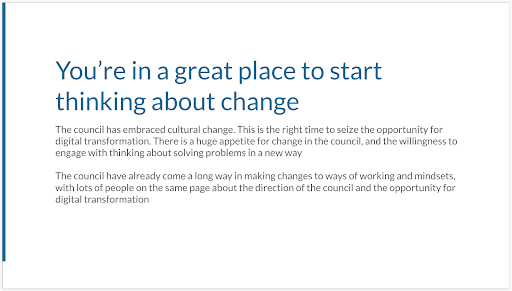 Step 4: Prioritise ideas for delivery and next steps
Our final step was to work with service managers and leaders across the council to create prioritisation criteria and a related tool based on the needs of their customers. The council is already using the tool to help them identify priorities for future delivery and increase the visibility of the work they're doing.
Outcomes
Completing this project has given the council a shared picture of their current digital maturity and capability to deliver change. It's provided them with a set of practical steps to take forward, and a clear view of where to focus their efforts to improve the experience for staff, residents, and businesses in North Lincolnshire.
At dxw, we believe in learning and improving through doing. That's why we worked with the council to develop a practical roadmap for change, giving them the foundations for building capability as they deliver projects that have real benefits to users.
Here's what some of the senior leaders at the council said to us:
"We had a real turning point after the directors' workshop. We realised the value of qualitative research and how we could incorporate some of these practices and methods in our existing work. We are doing that now… We also realised we were overthinking things and that we need to start somewhere small and learn from it."
"We are now refocusing our organisation and adopting some new ways of working to improve how we engage customers and staff."
Some things we'd do differently next time
In such a large organisation, and in a relatively short time period, it's impossible to see, hear and learn everything. There will always be pockets of excellence and ideas for improvement that can be missed. What's important is that you get a representative flavour from across the organisation and its services.
We'd love to have spent more time with service managers, observing how they run busy services in a real-life context. Speaking to residents also gave us invaluable insight – more time on user research always brings value to an exercise like this.
We will be blogging more soon about our approach to empathy mapping, the exercise we went through with the council to help them identify a first exemplar service, and how we support the prioritisation of next steps.
If you'd like to find out more, please get in touch.