We've been learning how to help local authorities improve digital collaboration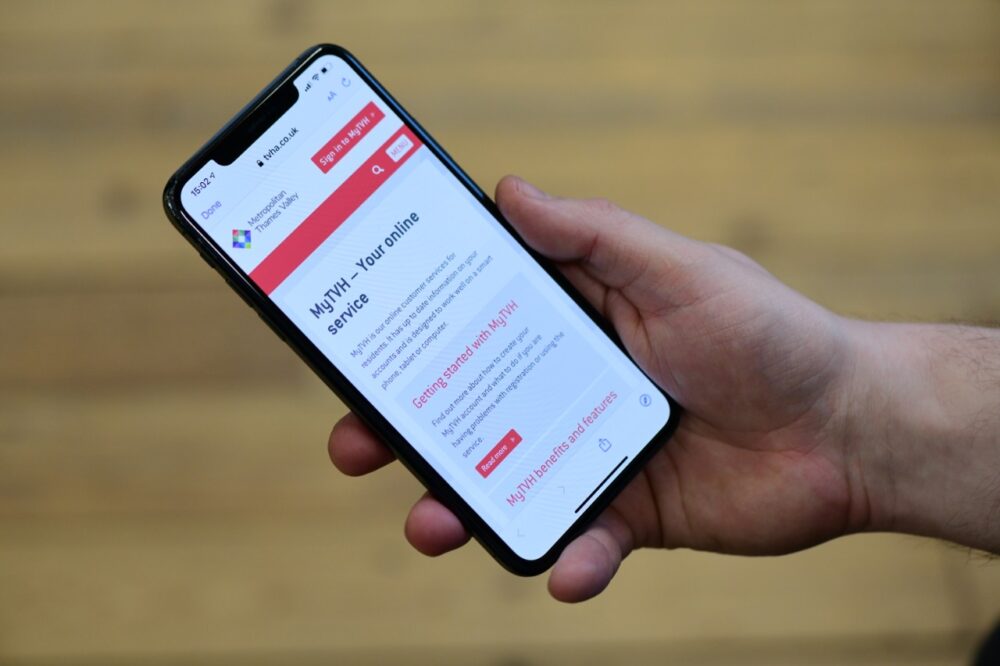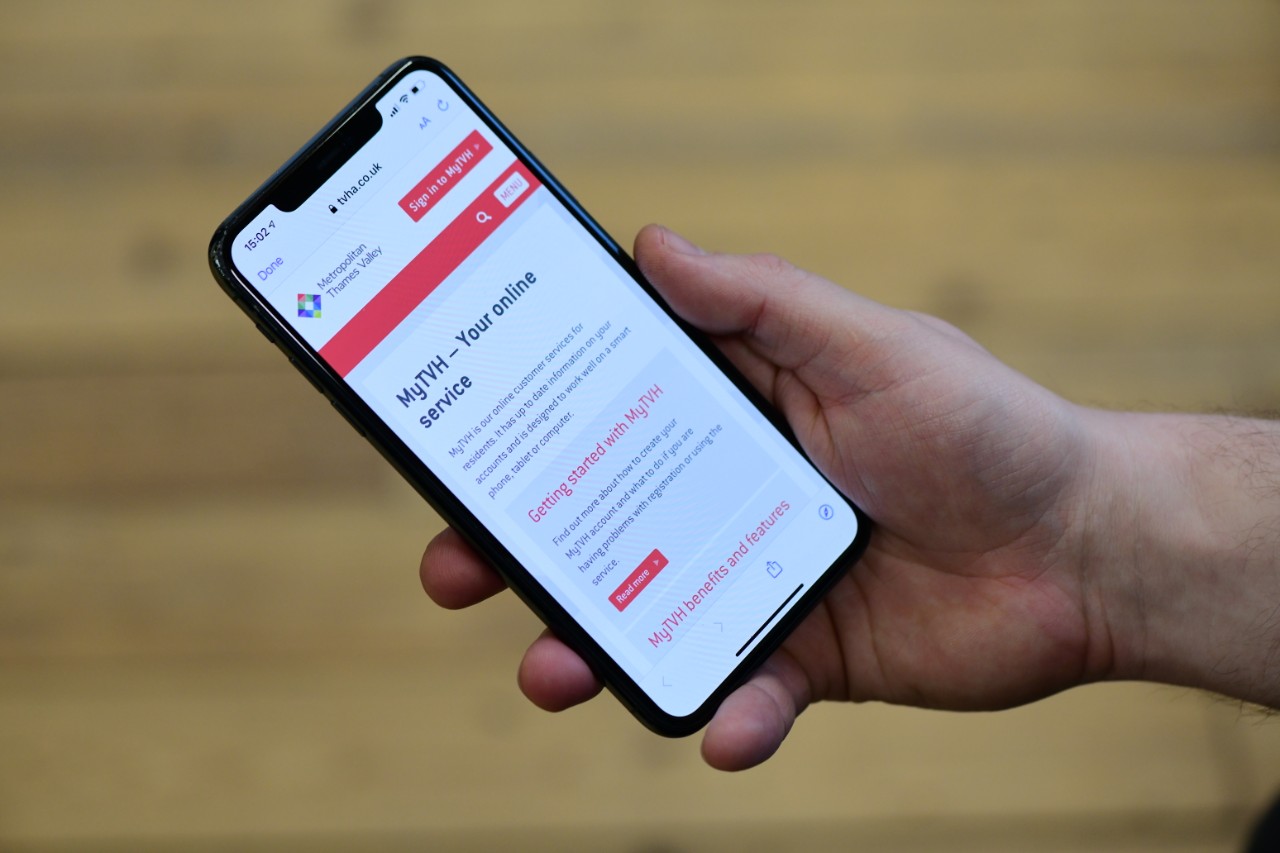 We first needed to know what collaboration actually means
We recently completed a discovery project with the Ministry of Housing, Communities and Local Government (MHCLG) on improving digital collaboration between local authorities.
We explored this hypothesis:
By improving local authorities' awareness of projects and their ability to collaborate, it will reduce costs, save staff time, and create better public services
Through working with local authorities, organisations, and people active in digital and local government, we wanted to understand what help the sector could benefit from in collaborating to deliver digital outcomes.
Different types of collaboration – networking, knowledge sharing, resource sharing, delivery

To understand how to improve collaboration, we first needed to know what collaboration actually means. We discovered a spectrum of collaboration types by carrying out research across organisations already active in this space. We also looked at the tools and services that support partnerships between local authorities.
At one end of the spectrum, collaboration can be a conversation within an established network. At the other, it can mean committing resources to sharing risk and solving a common problem. By defining 4 types of collaboration, we provided an anchor for our research. This means that we were able to identify types of collaboration that are already well supported and the gaps that aren't:
Networking
Knowing where to meet others who might be facing similar challenges is the first step to building closer informal relationships between local authorities. Anecdotally, this acts as a catalyst to collaboration.
Knowledge sharing
Alignment on issues and sharing approaches, research, tools, practices and problems.
Resource sharing
Sharing resources like code, skills, budget, access to platforms, or other tangible solutions.
Delivery
Working together jointly in partnerships to solve problems and deliver new services, meeting the needs of each of the local authorities.
A word on "digital" collaboration (as distinct from other partnerships)
The starting point in this work is the recognition that local authorities already collaborate. Partnerships between authorities, with NHS, charities, and the voluntary sector are normal practice for the hundreds of services that we rely on.
What's different about digital collaboration? To try and put it succinctly, digital collaboration is about coming together to use technology better for excellent user-centred service delivery.
For example, this could be a shared procurement for an IT solution. It could also be re-using code or web artifacts produced by another organisation. Or it could be using research conducted by another organisation on the types of technology or approach that work in meeting user needs.
The benefits of collaboration. Do we even know there are any?
We spoke to people and organisations active in local government and staff in authorities across the country. They all universally agreed that collaboration is a good thing. If it's done properly, it produces better outcomes at a lower cost.
There's good evidence on the benefits (and difficulties) around formal shared service agreements. What's difficult to quantify is the benefit of delivering a project in partnership with other authorities outside of these formal arrangements.
The evidence base for this is limited. The MHCLG local digital fund is showing some promising results but it might be too early to confidently say that this way of working produced better outcomes. Many people that we spoke to had examples of collaborations failing, but few examples of success. Even though people considered it a no-brainer.
Where people go to find partners at the moment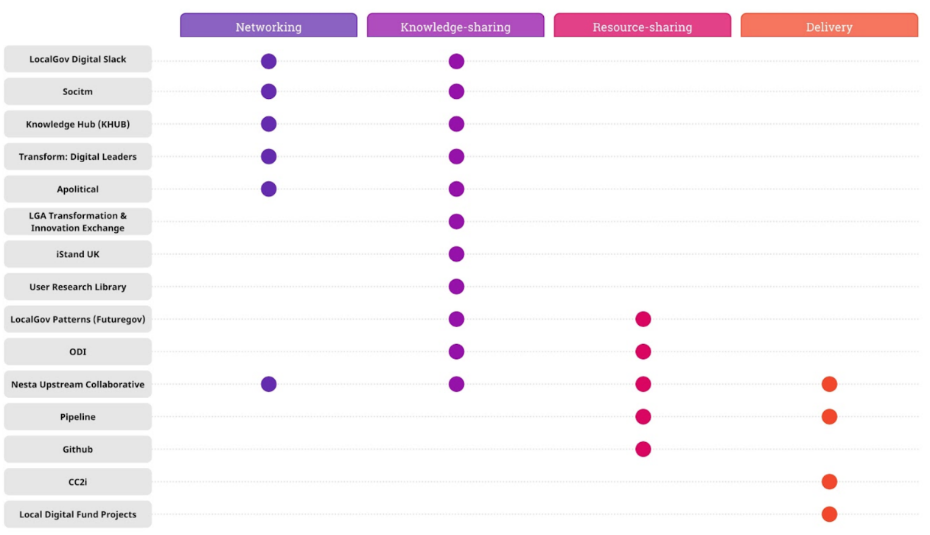 Local authorities overwhelmingly look to existing relationships and networks when looking for collaboration partners. These are often based on geographic or political synergies. But what about when organisations want to build on, or look outside of existing networks?
Across the 4 types of collaboration, we reviewed the groups, services, and tools that already exist to stimulate partnerships and share stories, lessons learned, and resources.
We found that, for 'networking' and 'knowledge sharing' in particular, it's a crowded space. A new product or service in this space wouldn't be helpful. We did, however, find that there's a potential unmet need in signposting across the myriad of existing resources.
But we found that 'resource sharing' and 'delivery' are not as well served by existing tools, groups, and services. Where tools like Pipeline exist, adoption is patchy. We want to understand why, and the types of features and improvements that can drive adoption and stimulate collaboration.
The ingredients for success and the things that stop it working
Our research uncovered a number of factors that make collaboration more likely to succeed (or fail).
culture – differences in organisational culture and attitudes to working openly
politics – different political make up, between and within political parties
technology – core technology infrastructure and line of business applications
governance – governance arrangements can work against each other across organisations
shared vision – goals that aren't aligned from the start and throughout a project
relationships – projects need to be able to withstand people moving on
geography – geographic proximity makes it easier to meet and makes it more likely that a pre-existing relationship exists
capability – capabilities and skills should support or complement each other
scope – collaborating on common needs instead of focussing on those unique to an organisation
Some of these factors (politics or geography for example) can't be changed. But for most of them we found that, while local authorities recognise their importance, they want help in understanding how to improve the chances of successful collaboration. For example:
how should you adopt a shared vision across 2 organisations when trying to solve a common problem?
what's the best way to agree scope?
how should we assess capability and what should we do to address the gaps?
Ideas that we're taking forward

We held a workshop simultaneously with local authorities in Leeds and London. This was to validate our discovery findings and our ideas to take forward and test in alpha.
Broadly, there are 2 sets of needs to address:
users need help to find the right people, problems, and projects for collaboration
users need help in understanding how to do collaboration
We're about to start work with the MHCLG local digital collaboration team on this alpha to test approaches in both these areas. We'll be iterating the Pipeline product to see if new and different approaches, features, and design can help authorities find others who have the same problem or are working on an equivalent project.
Also, we'll be testing approaches to collating or developing a toolkit to help authorities maximise the potential success of working in collaboration.
As always, we'll keep you posted on our progress and findings.