Why monitoring affordable homes is so important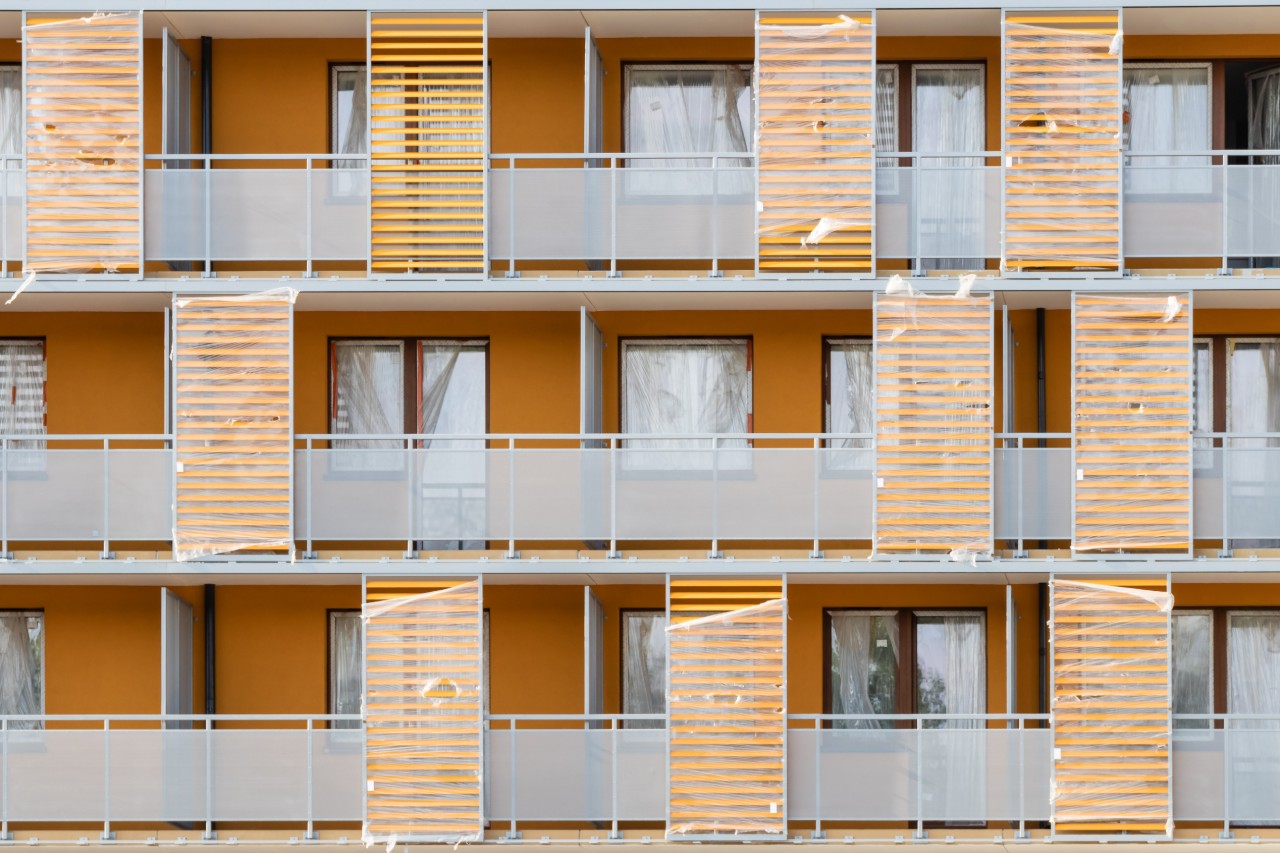 The conversation can shift from one of ambiguity to one based on real, public data
We've been working on affordable housing monitoring with Southwark Council. This is the third of a series of blog posts about why this is a national issue and our approach to tackling it.
In our previous blog posts on affordable housing, we've looked at the problems with existing data and statistics, and the challenges of existing processes and systems when trying to track homes. We've also talked about our approach to solving the problem.
But why does it even matter? What could change if we had a better grasp on where affordable homes are and have greater confidence that promised homes actually materialise?
We've built an affordable homes monitoring service that tracks the affordable homes agreed during the planning process. This service confirms that those homes have been delivered, are being managed by a registered social landlord, and all changes get monitored.
With this service we can unlock big and wide reaching opportunities. Broadly, the benefits of tracking affordable homes are around policy, transparency, and efficiency.
Policy benefits
This is the big one. Affordable housing should be available to everyone who needs it. There's broad political consensus on this with billions of pounds of public money spent on affordable housing. Without reliable monitoring, the effectiveness of this investment is unknown, opportunities are created for misuse, and homes can disappear, only to turn up on the private market.
By monitoring the completion and delivery of affordable homes and their ongoing occupancy and usage, better policy decisions can be taken based on actual data. Funding programmes can be concentrated on areas of need, or adapted according to what's actually happening with homes. Policy can be tailored to specific locations, rather than an entire borough or even a city. Enforcement functions in councils could use an intelligence driven approach to investigate. This ultimately means that more homes are available for the people who need them.
The affordable homes monitoring service that we've built collects evidence at sufficient granularity for the effectiveness of policies to be monitored in real time. Details of each individual home are captured in the service from the point at which they're legally agreed.
By recording each home separately we, in effect, create an index card for that home from the moment it's planned. As it moves through the building process and ultimately becomes managed by a registered provider, the relevant pieces of information are added to monitor the status of that home. For example, addresses or internal ID numbers. When changes occur, through an agreed planning variation for example, that change is recorded against each individual home that's affected. This creates a detailed audit trail.
Creating a policy feedback loop
This policy feedback loop is a rare opportunity to make policy and adapt it in a totally different way. For example, data on affordable homes could be fed back into the viability process. This can increase the number of affordable homes by adapting requirements according to need.
Currently, a schedule of accommodation (which specifies the number and type of homes in a development) looks something like the image below. There are no standards, and it's extremely difficult to know if you're looking at the latest version.
In the service that we've built, homes will be entered individually in a standard and structured way, creating an individual record to track through the journey.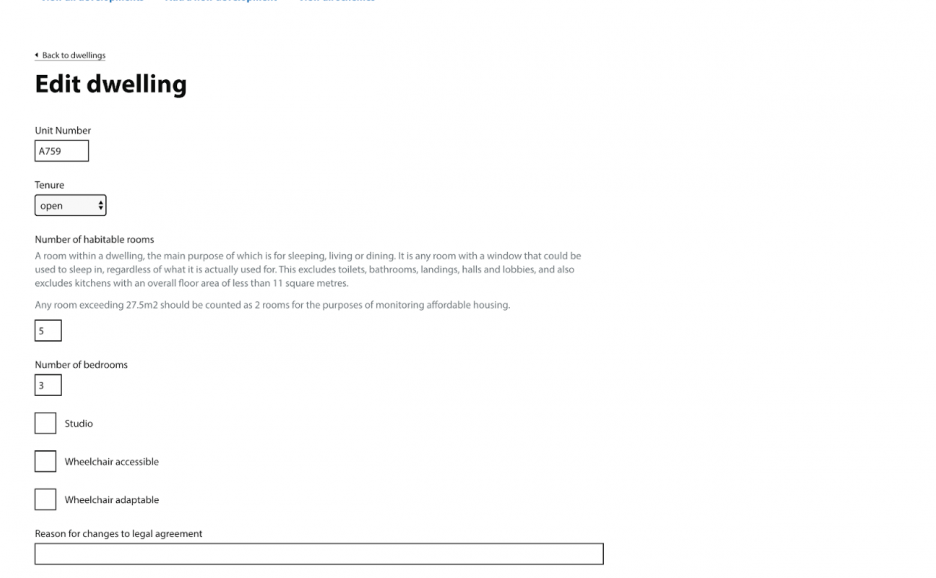 Transparency and trust benefits
Trust in neighbourhood regeneration programmes is low. Campaign groups and activists doubt the actual numbers of affordable homes being built (and the tenure of those homes). Official data is confusing (and sometimes conflicting) and can be hard to interpret. Information is often obtained through freedom of information (FOI) requests. These can frustrate both parties and there's often doubt about the accuracy of that information.
Our affordable homes monitoring service makes data available to anyone who needs (or wants) it. Publicly open data about affordable homes will improve trust between residents, local authorities, and developers. The level of trust would also improve if there's less ambiguity in how data is reported.
The conversation can shift from one of ambiguity to one based on real, public data. There will be a clear audit of what has happened to each home, from the moment the home is originally planned. People will be able to see the impact that negotiations between authorities and developers have on affordable housing provision.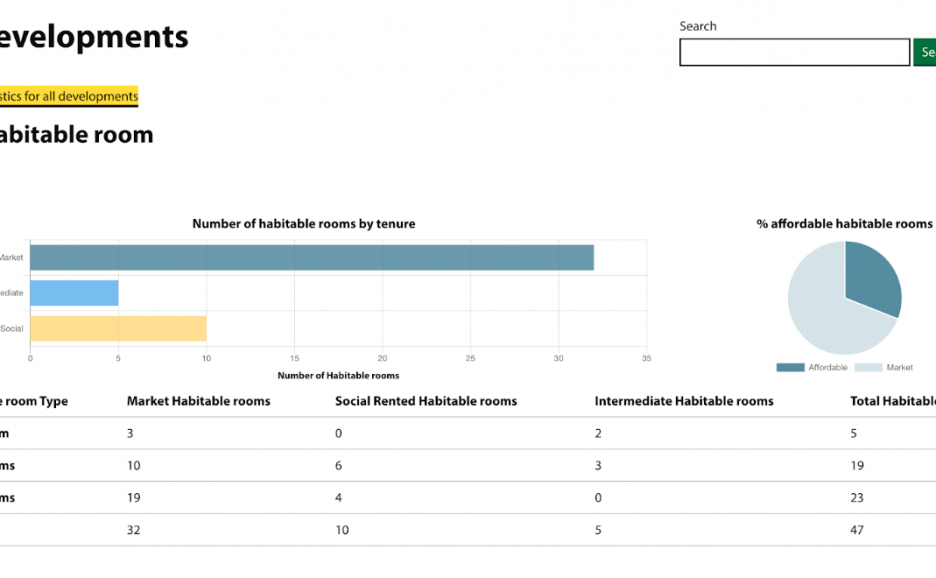 In the affordable homes monitoring service, statistics are live and based on the status of individual homes. Council officers, campaign groups, policy makers, and the public will be able to view data according to what they need. For example, this could be by development, scheme, ward, or borough.

Changes to the type or tenure of a home that might be made through the planning and development process are linked to the legal agreement that authorised them. This provides total transparency of what has changed, when it changed, and why.
Efficiency benefits
Case officers in council planning departments are involved in long and complex negotiations, with no ongoing monitoring of the benefit of that negotiation. As we've seen, information is often provided through the cumbersome FOI process. Identifying actual affordable units as part of conveyancing is highly inefficient for solicitors and council staff. Reporting to regional and national government is burdensome and prone to error. There are drives for automation across local authorities but data across systems is not standardised or machine readable.
By capturing, tracking, and publishing dwelling level data, the need for FOIs and enquiries will reduce. The conveyancing burden will also evaporate. Reporting housing data can be immediate and accurate.
At the heart of the affordable homes monitoring service we've built is the notion of connecting addresses of homes to agreements to build. Developers and housing associations already have this information. We simply want to ask them to record it. This straightforward connection relieves the burden on council officers answering enquiries and lets them monitor what happens to homes once they're built.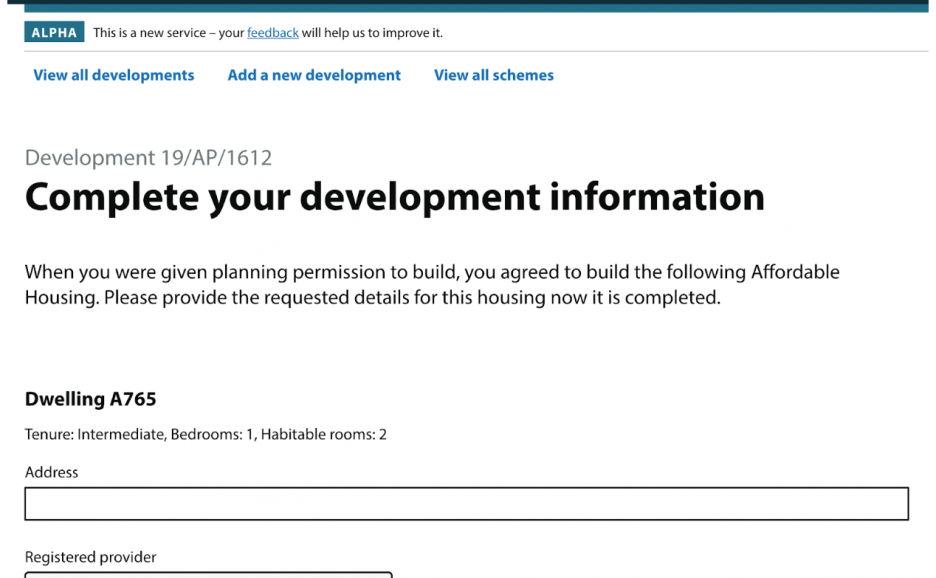 Council officers can send developers a link to enter the specific information required for monitoring. Once developers enter that information, it's stored against each home.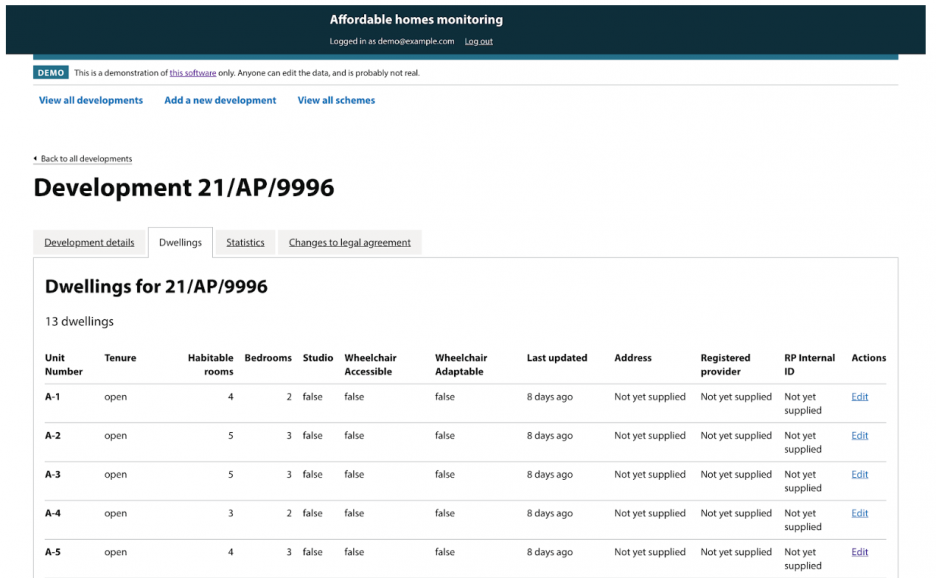 Official statistics for affordable homes are incomplete, and council officers who send reports to regional and central government are frustrated by inaccurate and missing data. This service provides a canonical record to rely upon.
Scaling the service
The service we've developed with Southwark Council to monitor affordable housing can realise these benefits. But imagine a cross-authority service, with city, region, or nationwide monitoring data on individual homes. The opportunity for local authorities to protect Britain's social and affordable housing stock, and for national policy to respond to what's happening in our towns, wards, boroughs, and cities is huge.
The cost of operating a service like this reduces as it scales. Southwark has introduced an 'affordable homes monitoring levy' in its S106 agreements with developers. This means it's collecting funds directly from developers for the purpose of monitoring affordable homes. It's not difficult to see how this model, and service, could be scaled for enormous national potential.
You can view our discovery and alpha outputs and please get in touch if you'd like to discuss. Our next blog post will be about how a new model for local digital services can lead to real transformation.
Read our other blog posts about affordable housing monitoring
*Featured image by Richard Horne on Unsplash