Monitoring Southwark Council's affordable homes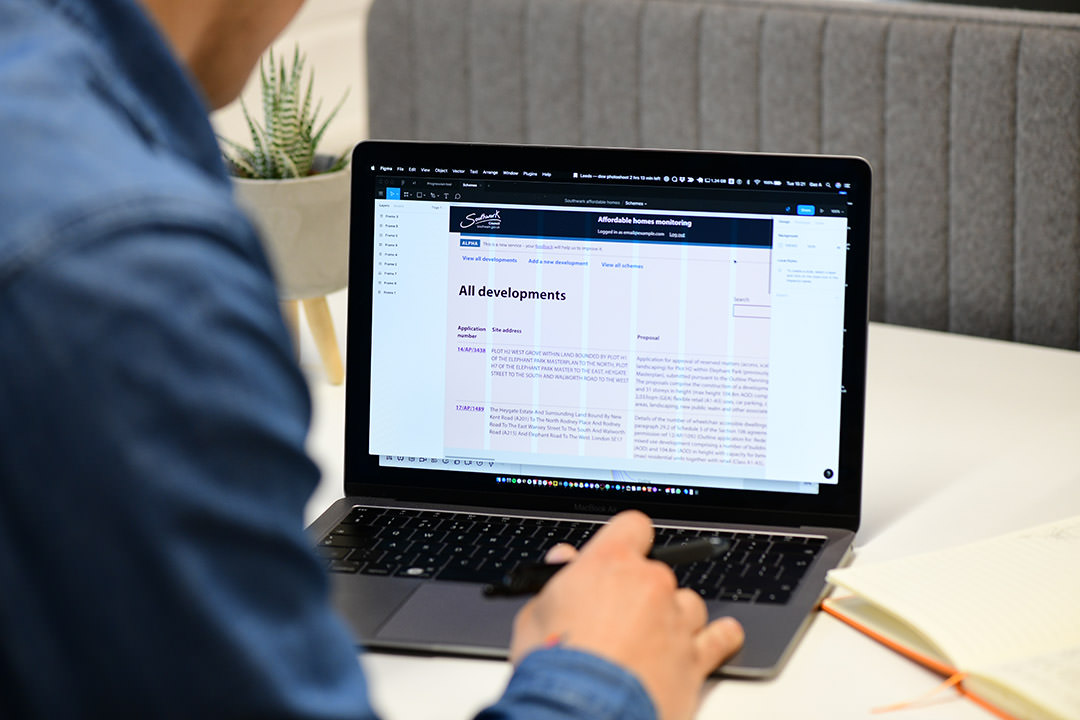 At least 35% of new developments should be affordable
We've been working on affordable housing monitoring with Southwark Council. This is the second of a series of blog posts about why this is a national issue and our approach to tackling it.
There are few issues as emotive in UK politics as the provision and use of affordable housing. House-building rates aren't keeping up with what's desperately needed (particularly in London), and the cost of renting or buying continues to outstrip wages. This means that councils face increasing scrutiny and uncertainty:
how do councils negotiate so that developers build more affordable homes?
do they check that the negotiated affordable homes are actually built?
are councils monitoring that homes stay in the affordable housing stock?
In this post, we'll explore the issues further around monitoring affordable homes. We'll also talk about how we've approached fixing the problem.
What does "affordable housing" mean?
The Mayor of London's draft London Plan has set out that at least 35% of new developments should be affordable. But let's take a step back: what do we mean by "affordable housing"?
There are three overarching types within the government's definition:
Social rented housing
What we would traditionally think of as council housing, managed by either the council or a registered provider.
Affordable rented housing
Rent controlled housing for those who meet specific eligibility criteria.
Intermediate housing
Homes are rented for less than market rent or sold for less than the full market value. Shared ownership falls into this category.
Even within these categories, there's a growing number of "products" or "tenures". There's also no consistency in definitions across local authorities, regional government, central government, and housing associations.
It seems that the term "affordable housing" encompasses two vastly different situations. Those who can barely afford to rent together with those almost ready to buy. This diagram from the Housing in London: 2017 report illustrates this well.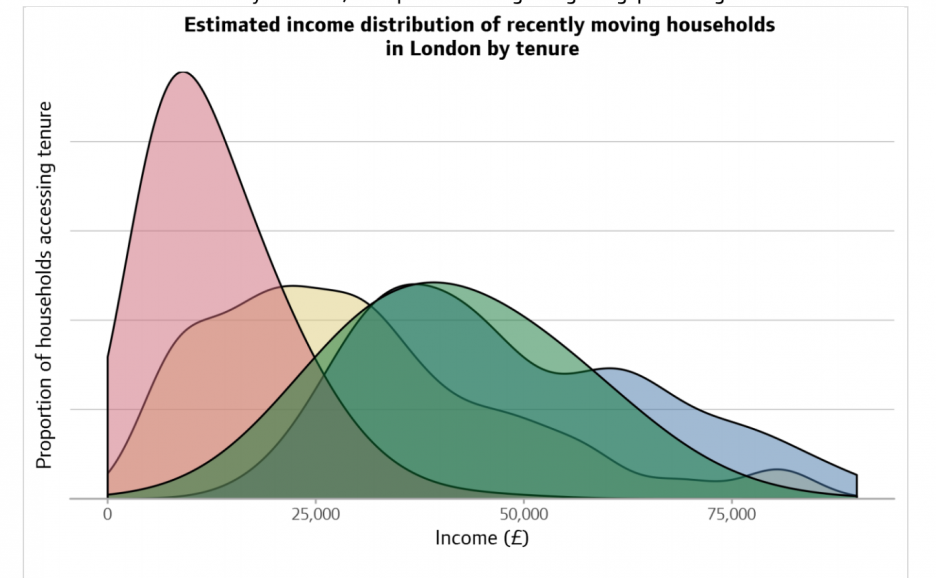 So why should housing that falls into this fuzzy definition be monitored by councils?
Affordable homes in a jam
In 2015, Southwark Council was contacted by a confused tenant in a new housing development who had received a pack through their letterbox that referenced affordable housing. They didn't understand why they'd been sent affordable housing materials since they rented privately from a landlord. This home was one of several managed by a registered provider that Southwark Council ended up taking to court for putting homes that were secured as "affordable" in the planning process onto the open market.
There are also other ways that affordable homes are not being occupied by the people that need them most. In July, Westminster City Council evicted and fined a tenant for subletting their home on Airbnb.
In both cases, affordable homes had been lost from the borough's affordable housing stock. The councils weren't aware because they had no way of checking what was happening with affordable homes in their borough.
These examples may, or may not, be indicative of a relatively isolated problem. We can't know the scale of the issue unless we start properly monitoring affordable housing.
Committed to the cause
Southwark Council asked dxw to run a six week discovery to investigate this problem:
How might we get clear, accurate and live data on affordable housing to track the properties through their entire lifespan, to increase the provision of homes for Southwark residents?
It quickly became clear through interviews with council officers that data on affordable housing was needed by a full range of teams, for a wide range of purposes:
To inform housing policy
Every council has to annually submit data about housing to the Ministry for Housing, Communities and Local Government (MHCLG) (and in London to the Greater London Authority), and government creates policy based on this data.
To make sure that agreements are met
During planning negotiations, councils and developers agree how many affordable homes will be built on each development. They need to be sure that any commitments made are kept.
To make sure that they have the right occupants
Councils need to know that the affordable homes aren't occupied by ineligible tenants. They also need to know if they're being misused in any other way. For example through short-term lets.
To act on breaches
Legal and enforcement teams, with the right data, could identify people and organisations who breach their contracts.
To respond to information requests and communicate to the public
Working in the open is truly valued in local government, and Southwark Council want their data to be as open as possible.
Why is it so difficult to get clear and accurate live data on affordable housing?
As affordable homes move from negotiation to occupation, teams in the Council need to watch for different things at different stages.
This presents the first issue. There's no automatic way of tracking an individual affordable home through the entire journey. When a development is planned, it exists only as a plot description (for example, "land to the rear of…") and a series of coordinates. If there are multiple developments on a site, they inherit coordinates from the plot. But it isn't until after they're "completed" (built), that they receive their own street address.
Of the many systems that councils use throughout the planning process, none of them are able to track exactly which housing "unit" is affordable. Currently, there's no process where developers share that information back to the council.
Imagine that a developer has promised 10 affordable units on a development of 28 homes. When these homes are built, the council will add 10 units to their running total of affordable housing in the borough. However they'll never actually link the addresses of the affordable homes to the original planning permission where they agreed 10 affordable homes with the developer.
If, a year later, the person managing or occupying one of those affordable homes chooses to abuse the system, the council would never know.
When homes are purchased or sold, conveyancing solicitors make enquiries to the council about whether or not a home is designated as affordable. Both parties then go through a protracted conversation. The result of which being that the council won't be able to determine the status of a home with 100% confidence.
We need to be tracking individual homes all the way through from the planning stage
It should be a requirement that developers share the exact addresses of the negotiated affordable units with the council once they are built.
This would make it easier to check that the affordable homes that are being negotiated are actually making it from plans into the housing stock. Opening the door to better monitoring for fraudulent activity. At the moment, planning and legal teams are manual havens of paper and signed, scanned PDFs, with little digitised or machine readable information available.
Building a tracking service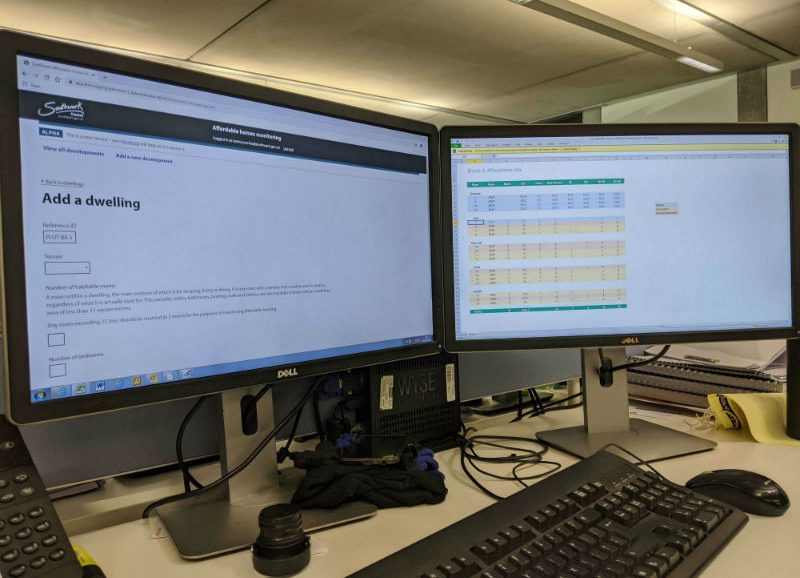 Having interviewed people who are part of various stages of the affordable homes journey, dxw started forming an idea of how a tracking service might look. During discovery, we prototyped a service for identifying and tracking individual homes from the point of agreement.
While the provision of affordable homes is a policy issue, we discovered that the monitoring of affordable homes is a data one.
Data isn't digital
Planning documents are not digital and the information is not machine-readable.
Data isn't standardised
There's no common structure or data schema for plans and planning applications.
Data isn't in order
The multiple PDFs generated by variations and changes to legal agreements mean it's not always clear what was agreed and how that might have changed over time.
Data may not exist
Address level data for units doesn't exist until the build of homes is completed. The address is not then linked to the agreement to provide affordable homes.
Data is subject to changing policies
The policy landscape is constantly shifting. Products considered "affordable" vary in different contexts, and different organisations use their own vocabularies.
In October, we started an alpha phase of this work. Because we'd prototyped in discovery, we used alpha to design and build a minimum viable product in code, testing with users and iterating as we went. Because code is cheap, it was the perfect tool in alpha.
We've built a working service that fits in the gap between 'systems that manage planning applications' and 'systems that manage built homes'. Because this is a gap that's unsupported by existing technology, we've been able to design and build a service in a space with no legacy systems.
We've also designed the service so that it uses the minimum amount of information required to track a home from the point it's agreed to the point it exists, without needing any integration to existing council systems. This means it can be easily used by other councils.
We've worked with a housing association to make sure that the design allows for an easy transfer and reconciliation of data to aid the ongoing monitoring of homes.
You can view our discovery and alpha outputs and please get in touch if you'd like to discuss. Our next blog post will be about the significant opportunities that come from this new way of tracking homes.
Read our other blog posts about affordable housing monitoring