Working with North Lincolnshire Council on their first discovery project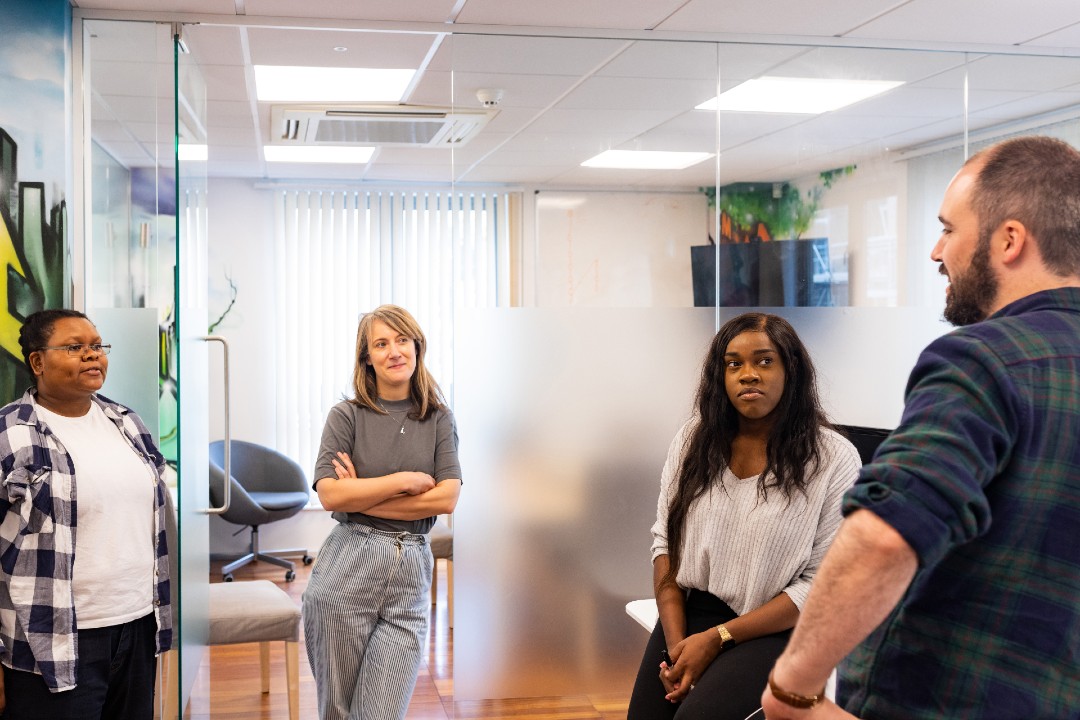 We started with a digital maturity assessment which is our way of working out what digital means to an organisation
We recently worked with the service design team at North Lincolnshire Council to help them with their first agile project. We worked alongside them to understand the best tools and techniques for them to use, and how to move from discovery into alpha.
Were they ready for transformation?
In 2019, we started with a digital maturity assessment which is our way of working out what digital means to an organisation. It looks at its skills, people, and structures to create the right environment for transformation.
Some of our recommendations from the assessment were to break down goals into smaller, achievable steps, create a multidisciplinary team for projects with clear guidance on roles and responsibilities, and to do some exemplar projects to show how an agile way of working can transform services.
The council followed through on our recommendations and set up a new service design team. We've been working with the team to help guide and coach them while they work on their first exemplar project. They decided to start a discovery on council tax as one of their first projects.
Our role was to help the team build on their skills, capture the steps and outputs needed for this work, analyse where there are gaps, and to make them feel confident that they can run future projects themselves in this way.
What tools and skills did they need?
We did a number of things:
introduced useful tools especially for remote working like Miro and Trello
facilitated an inception phase with people from across the council
helped the team define the goals and priorities of the discovery and the sprints
helped to plan and run the agile ceremonies like standups, show and tells, and retros
provided examples and guidance for user research materials and ran workshops
created an agile learning log to document what the team learned
Once the team felt more confident, they were able to start doing a number of activities for the discovery:
map out stakeholders who will be both interested in this work and who have lots of knowledge and experience
consider the privacy and consent implications of the work
interview stakeholders, users, and other councils for insights into how this service could work
How do you track what you learn?
One of the aspects of this work that was really important to the team, was to separate doing the work from the learning activity. We created a learning log so the team could record the activities that happen during a sprint, the approach used, what the purpose of the activities are, and what roles and tools are best for each activity. The team used a spreadsheet to capture this information and we regularly reviewed it together so that it stayed relevant as a reminder and a reference tool.
From the learning log, the team identified areas where they felt they needed more support. We then made recommendations on how we could help them build on what they had learned from running their first discovery.
What did we both learn?
After the discovery ended, there were lots of things that both dxw and North Lincolnshire Council felt we would do differently next time. Having more time to get familiar with online tools is always a good idea especially with remote working.
Agreeing learning goals at the start of a project is something that the team feels would be beneficial for their next project. More time for the inception phase feels necessary especially to help others in the council get familiar with agile ways of working. It also helps with understanding how much time people can, in reality, dedicate to a project. Improving the user research process over time is something the team want to focus on.
There is usually an element of skills transfer in our projects, and we always try to leave our clients with more capability than when we started, but this isn't always formalised. We should establish explicit learning goals and track learning activities throughout our work.
Working with North Lincolnshire Council has been enlightening and valuable for both of us and we'll blog again soon about how they found working on their first agile project.