Celebrating our culture, values, and growth with stickers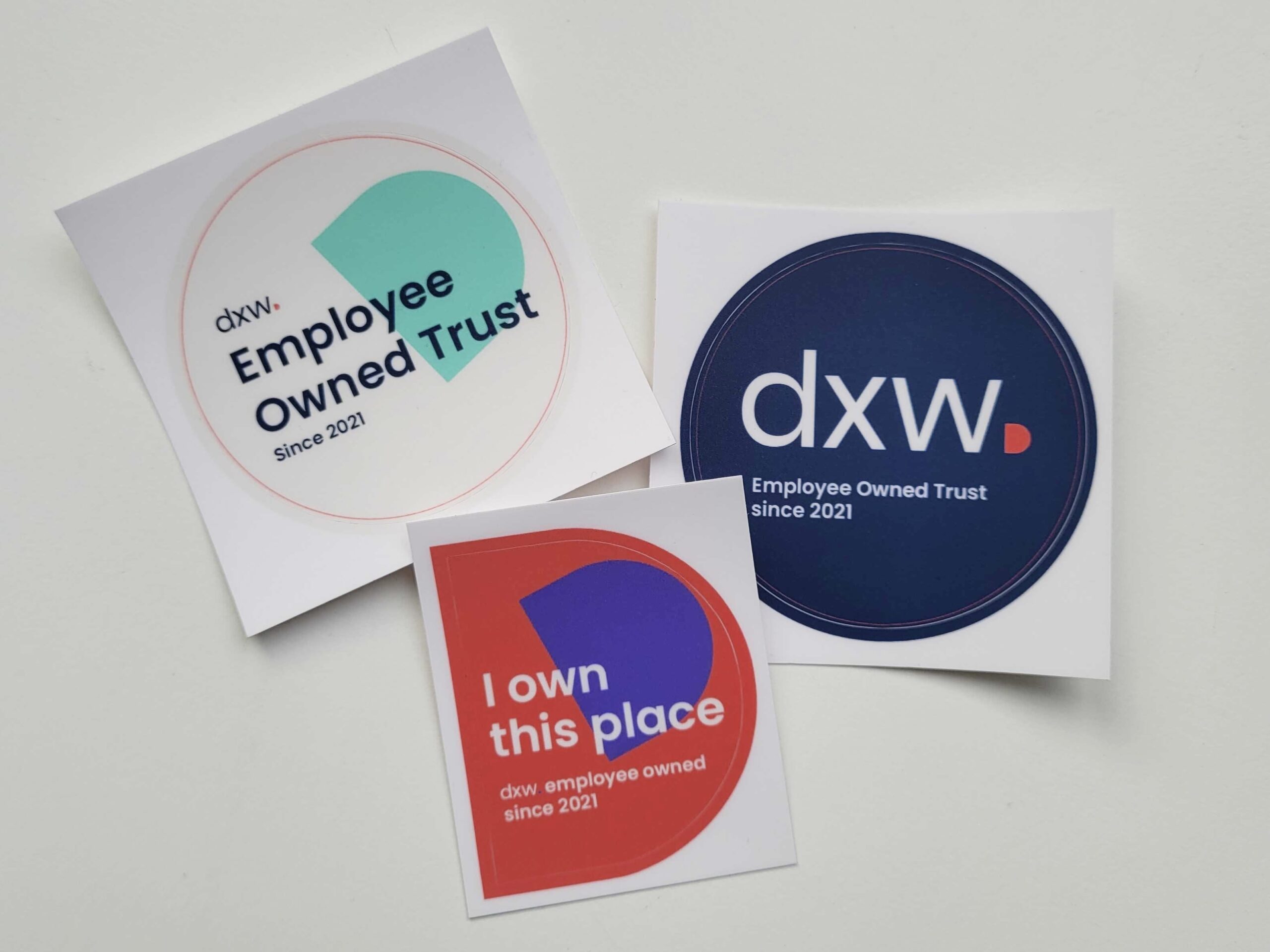 In a predominantly remote working world right now, it's important to us that our dxw team feel like a collective
2021 has been a pretty exciting year here at dxw, with lots of changes, announcements, and new faces. With plenty to celebrate, we felt it was time to update our stickers so they continue to reflect our work and values. We love stickers.
We took on this challenge and are excited to share the outcomes with you all.
But, why stickers?
In a simple sense, stickers are fun, they're colourful, and spark that childhood joy in us all. But for dxw, there's more to it than that.
We want to do good work, and tell good stories. We take great pride and passion in working in the open, sharing our work whenever we can. Creating and using stickers that showcase our work and values is an important part of telling those stories. Whether it's decorating our laptops and notebooks, or handing them out to clients, we're proud of what we stand for and the work we do, and want to share that.
In a predominantly remote working world right now, it's important to us that our dxw team feel like a collective, while also celebrating all of our differences as we continue to grow. Giving everyone at dxw the opportunity to pick from a range of dxw stickers that best represent them, their pronouns, their disciplines and even their love for our Leeds HQ is really important to us. We pride ourselves on the individuality of our team.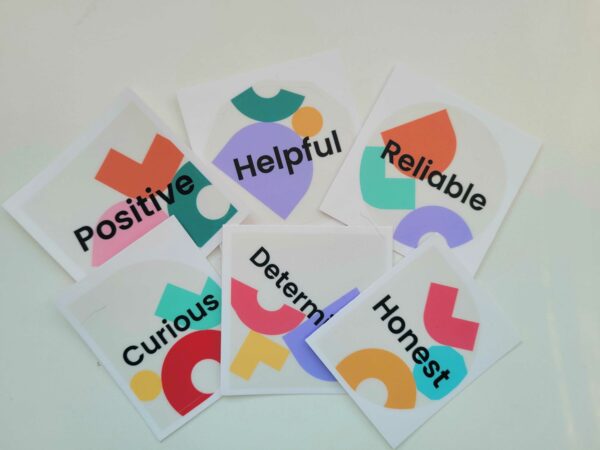 It's also a way for the team to show their growth and achievements. Collecting stickers over the years is a really good way of showing work we've been involved in. It's a great conversation starter with clients, and with new starters.
Both of us are fairly new, remote starters and on our first visit to the Leeds office, we loved flicking through the backlog of stickers and mission patches. Seeing all the projects dxw had been involved in and the clients we'd have the opportunity to work with.
Why now?
At dxw we sometimes find ourselves with a window of opportunity in between projects to build on our internal practices and use our creativity to experiment. We both worked on designing some new dxw stickers, not just because we had the time, but because we felt passionate about celebrating all the big milestones and changes that have happened in dxw over the past year.
Our biggest milestone was the decision to become employee owned, news we publicly shared at the end of September this year. We made this decision so that dxw could continue to grow and do great work, while maintaining our core values and mission.
We also have a growing number of internal working groups that are continuing to make a great impact. These include our Diversity, Equity and Inclusion group, the Earth group, and a Mental Health group. We've designed stickers for each group to showcase the work they're doing.
Historically we've captured our time on projects with mission patches that are shared with everyone who worked on the project from dxw, partners and clients. We felt it was important to celebrate the work being done internally by our working groups too, and are really excited by our new stickers for them.
What next?
We have our dxw values and employee owned stickers printed and ready to share. And we're just working on the final details of our working group and discipline related stickers. We've worked with lots of new clients on some important projects recently, so we'll be working on a new range of mission patches to celebrate each of these projects too.
Keep your eyes peeled for our big collection of new stickers on our dxw team laptops and notebooks soon!