Steps we're taking so all participants can get the most out of UKCharityCamp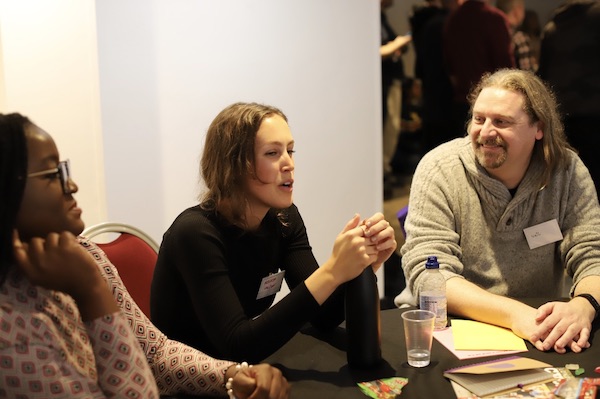 We want the event to be as inclusive as possible
UKCharityCamp is an 'unconference' event with a focus on all things digital. It's specifically for the UK charity sector and will taking place on Thursday 30 November at The Studio in Birmingham. The event is for charities large and small, and freelancers and agency folk who work in the sector.
As we've said before, we want a diverse set of lived and learned experiences to be represented. Thanks to our friends at Catalyst, we're able to offer 10 travel bursaries of up to £100 each to help people who wouldn't be able to attend the event otherwise. We won't ask you any questions. Just email me: harry@neontribe.co.uk for a bursary, and if we have any budget left, we'll help.
We want to make the event itself as inclusive as we can. We appreciate that the format is inherently not entirely inclusive. Outside of the sessions, it favours large, loud, confident voices. This year, I've been to UKEduCamp, OpenDataCamp UK and of course UKGovCamp, one of our kind sponsors. I've been grabbing bits of good practice from all these places. And I've listened to feedback about an internal unconference we ran at dxw in January. We've put that together, and come up with some specific steps to make the event as welcoming as we can.
Help pitching sessions
We're not going to insist you put your name on your session idea. You might have any number of reasons for not putting your name to a conversation you want to happen, and we're happy to preserve your privacy. We're not going to make anyone stand up and pitch their idea for a session if they don't feel comfortable doing so – helpers will do that for anyone who wants to use one of our voices to speak for them.
Lastly, we're absolutely, definitely, not going to turn session pitching into a popularity contest. There'll be no 'show of hands' for popularity of participation in any particular session.
During sessions
There'll be no need to lead or facilitate a session you suggested unless you want to. Having an idea for a conversation is great in its own right. If you want to structure it more than that, please go ahead, but there's no need. (We should also say – UKCharityCamp is not a place for product pitches, or agency 'credentials decks'.)
Like many unconferences these days, we're renaming 'the law of 2 feet', the "law of mobility". While we're all in favour of folk leaving a session if they're neither learning nor sharing, of course, we all move about in different ways.
In order to make conversations as easy as possible to hear, the majority of sessions will be in their own room, not an area in an open space. (We can't quite manage that for all of them, there'll be 2 sessions going on in the largest area.) Hearing loops are available at the venue.
In general
We want to make starting conversations as easy as possible. So we're going to be using badges to help. There'll be badges to show people's pronouns, and whether or not you're open to someone chatting with you.
Unconferences can be a little overwhelming at times, so there'll be an accessible 'quiet room' for anyone who needs it. Unfortunately, we can't stretch to a crèche, but I'm hoping the fact that the event's on a Thursday means 'usual' childcare arrangements will cover the folk who might not be able to come if it was at the weekend.
We hope all that helps make this a properly inclusive event, where we can share our experiences, and learn from each other.
If there's anything we've forgotten, or you'd like to talk to us about how we might be able to meet your needs, please drop me an email: harry@neontribe.co.uk
The first round of tickets were released this week on our eventbrite page, if all these have gone don't worry as there will be another chance to get tickets in a couple of weeks.