Neontribe: helping charities and tech for good companies provide better digital services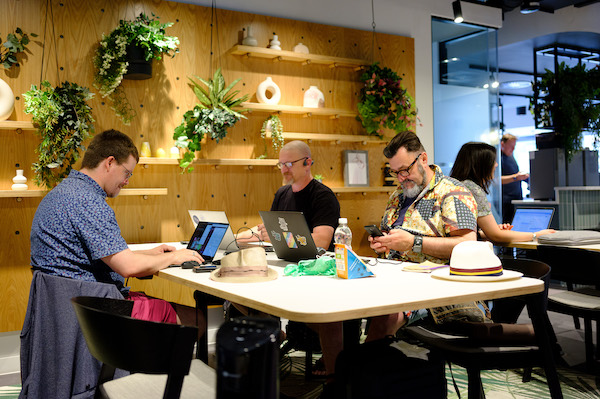 We design and build websites and digital services that mean charities and tech-for-good companies can do more with less
I'm often asked "What does Neontribe do?", and it's taken an unexpectedly long while to get a decent answer together.
That sounds odd, right? We are a digital agency committed to tech for good, so we build websites…? Well, yes, but the websites we build generally do more than publish content. Since we started along Comic Relief's tech-for-good journey in 2013, we've been building things to help folk.
The kinds of things we can build for you
Interactive things. Like our original project, Docready, which is still being recommended to young people who need help getting the best out of a visit to the GP to talk about their mental health issues. Something to help. A service. A digital service. So I used to say we built digital services. Then a wise voice said they didn't understand what I meant and I thought again. (They do now – but it was my fault for using jargon at them.)

Then I went back to talking about websites, but we don't specialise in content management. That meant we were getting lumped in with agencies with swathes of experience in WordPress, or Drupal, or whatever. Folk would very sensibly turn to them instead. (Now we're part of the dxw family, we've got the experts at GovPress to turn to for those kinds of projects.)
Since we've come together with dxw, I've had people to talk this over with. They've listened to my issue, and we started talking about outcomes, not outputs. Yes, we solve problems through user research, software development and design, but what kind of problems? Yes, we build sites and services that live on the Internet, but what do they do? dxw talk about creating public services that improve lives. We do that too. Specifically, at Neontribe, we work with charities and tech-for-good companies to help the people who need it most. (It's a bit wordy, but there it is.)
What this means in practice
We design and build websites and digital services that mean those organisations can do more, with less.
We are generalist developers. Yes, there are technologies we know better – Laravel, React, Wagtail, Auth0 for authentication – but in the real world, green-field projects are few. We are very used to working with existing systems. Rolling our sleeves up, modernising legacy tech and integrating services that were never really designed to work together. Doing the hard work to make things simpler for people using them. That's what we've done for NCVO, amongst others.
We are prototypers. Using user research and rapid, collaborative, design processes, we create something that can be tested fast. Prototyping means you catch mistakes early, so you don't waste time and money scaling something that won't deliver for your users. That's what we've been doing for Alexandra Rose and a whole host of other organisations.
We are development partners. Being agile by instinct, and open-source by inclination, means your stressed budget makes more of an impact. We build and operate sites and services, moving from prototype to production and taking small steps quickly. That's what we've been doing for, for example, Mind of my own since they started as a Nominet Trust funded proof of concept.
How we'll work with you
Our sweet spot is at the intersection of all these things. It's when we fit into your organisation in a long-term relationship which means you don't need to build and manage your own development capability. For us, it's about:
developing a trusted relationship – with a focus on effective spend
offering a range of expertise – and being part of the dxw family means that list has increased
working closely with you, like an internal technical department would – here as a mature team when you need us
There.
That's what we do to make the change we want to see in the world.
Working with charities and tech-for-good companies to help the people who need it most.