How we made our design team away day more inclusive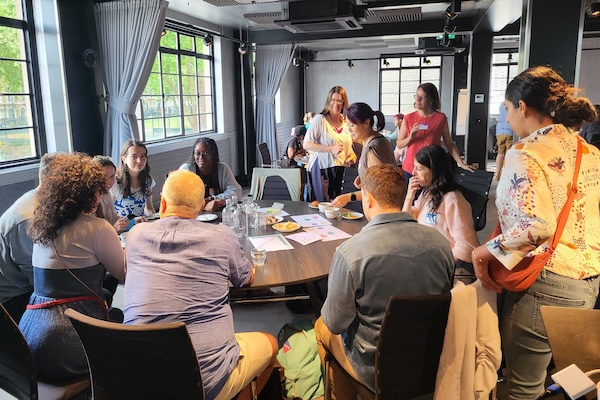 We avoided forced fun, and did everything we could to make our team away day as inclusive as possible
Because we're a remote-first company, making sure that everyone can get the most out of the times when we get together in person is important. So when we organised our design team away day, we took steps to avoid the dreaded forced fun, and make it as inclusive as possible. Given the team's make up and geographical spread, it was no mean feat.
Our design team
There are 32 people in our design team and they come from the following professions:
content design
interaction design
service design
user research
business analysis
product management
performance analysis
As well as living all over the UK, they have a range of backgrounds, work experiences and learning styles.
What we did
Put together a diverse organising group
Although the organising group consisted mostly of women, it included a mix of introverts and extroverts and represented some of the different teams that make up the wider design team. So the group's members were able to advocate for different preferences, and bring knowledge about what their colleagues would and wouldn't enjoy.
Asked for feedback
We contacted everyone who attended the Design Team away day in 2022 and asked for feedback about what:
worked well
was missing
they'd like to see in the future
accessibility needs they have
This was effective because each member of the organising group reached out to people individually, and spoke to the colleagues that they know best. This made it easier to have honest conversations about what was good and what could be improved.
Overall, people enjoyed the 2022 away day, but they weren't keen on awkward ice breakers, activities that involved being the only person speaking and typical "tell us about yourself" type away day activities. People wanted a mix of activities for introverts and extroverts, and also a choice in what they'd be doing on the day.
Initially, we thought about having multiple optional group visit activities for people to pick from, but this felt messy and complicated to organise. So we pulled together 4 different visit options and shared them in a Slack poll so people could have their say (which was something we didn't do for our last away day).
The feedback we got and themes that we found guided us in terms of what we needed to consider and avoid. We kept all of these things in mind when we were planning the day.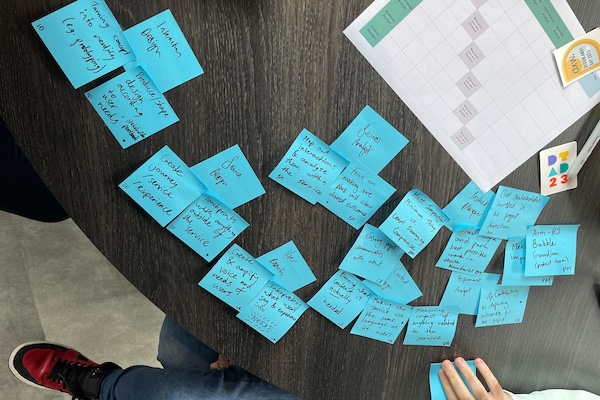 Considered what we needed from a venue
A venue's capacity and layout can often dictate what is and isn't possible to do and we didn't want that. So we had to find a flexible, large and budget-friendly space with gender neutral toilets. It also needed to be easy for people to get to, because we had a lot of people travelling in who are less familiar with London, and we didn't want getting to the event to feel stressful. Another must was a venue that had enough room so colleagues could move around, work in groups and get some peace and quiet if they needed to. After a lot of looking, we eventually found a place that worked well for what we had planned for the day.
Eased people in
We made a conscious effort to ease people into the day by starting with an individual activity, then gradually increasing the number of colleagues that people had to interact with. We also included an optional group visit to the Twist Museum because we wanted to include an activity that was unrelated to work, and that people could navigate at their own pace. The visit allowed for team building, but didn't push anyone out of their comfort zone. We left 90 minutes between the morning and afternoon sessions so people could travel, have some quiet time, eat their lunch and hangout with colleagues.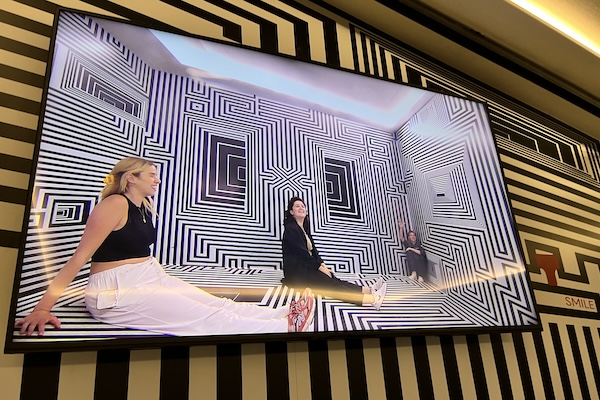 Thought about how much time people would spend in working in groups and working alone
We wanted a mixture of time spent working alone and working in pairs, professional groupings and larger, mixed profession groups. So we came up with tasks and activities for:
individuals – answering questions using Mentimeter and showing the collective results on a screen
pairs – a drawing task which didn't require any artistic skill
teams – sharing their understanding of what the other professions in the design team do
So people could have time for a quick break in between activities and still contribute, we set up a doodling exercise and a flip chart where people could add their views and reflections to a design community retro.
Made time for multiple breaks
To leave people energised instead of exhausted, we avoided cramming in as many activities as the time would allow. As well as breaks between the tasks we asked people to do, we also made sure there was a break between lunchtime and the dxw summer party which was held later on the same day.
Gave people lots of lunch options
Rather than dictating what and where people would eat, we put together a list of cafes and restaurants in the area to suit different tastes and dietary requirements. And we let people know that they could claim up to £10 on expenses. It was important for us to share this information, because people who don't live in London might have felt overwhelmed by the lunch options available. We also included directions to help people get from the away day venue to their eatery of choice, and from there to our next activity.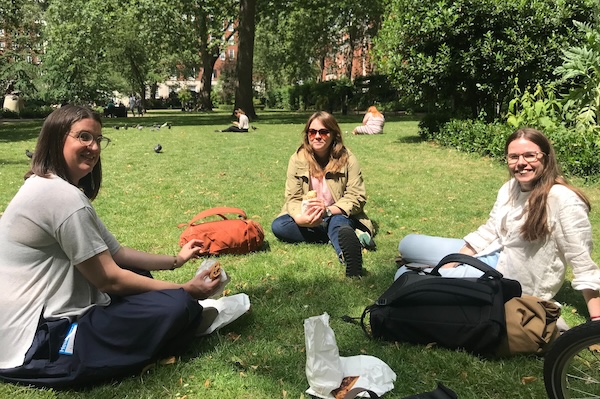 Helped people find their way around
Because the team's spread across the UK, not everyone is familiar with public transport in London. So we shared a document with advice on tube lines, accessible stations and walking directions to help people get where they needed to be. We also set up a Slack group for away day chat, so people could ask questions, share photos and find people to hang out with.
What we'd do differently next time
We'd definitely involve more people in the planning process so the organising group isn't primarily made up of women from only a few of our professions. We wanted to join up with the wider team that focuses on digital service delivery, but that didn't work out, so it's another thing that's on our learning list for next time. Overall, our hard work definitely paid off and we got positive feedback about the day:
"The activities were really easy to join in with (I found) and were work-related but not too serious."

"All of the venues and activities were great and the travelling between them was a chance for quality time with people."

"Felt like I had time to get to know people. There was no stress or sense of expectation. We could just relax, think and have fun."