I've been designing digital services for government for the last 18 years.  Over that time I have held many different roles such as Web Designer, User Experience Designer, Product Manager, Transformation Lead, Head of Service Design and since last week, interim Head of User Research at dxw
Over this time, highlights include:
designing one of the first Department for Education public websites back in 2000

being the product manager for direct.gov in 2005-06 (first pan-gov website)

working on various

GDS exemplars programmes between 2013 and 2015

(transforming services such as 'find your property'

(Discovery & Alpha)

, 'register to vote'

(Beta)

, 'Visit someone in prison visit booking'

(Beta)

,'Make a plea for a traffic offence' and many others).
One of the key things I've learnt is that there is still a lot of work to do to make things better for the users and make the administration of the government services more effective and transparent.
Over the years, things have moved from information services to the management of data and digital-first services.
dxw has for the last 10 years, contributed to this change – not just designing better digital public services, but also challenging the way that government engages with suppliers to deliver digital programmes of work.
The desire to make public services better for the users and more efficient has led dxw to expand its user research capabilities to ensure design decisions are based on evidenced user needs. Researchers help multidisciplinary teams learn about users and provide the insights to design great services that are accessible and that people prefer to use to the paper counterpart.
Working at dxw as Head of User Research
I joined dxw 2 weeks ago as Interim Head of Research in order to help find their permanent Head of User Research, and to support the user research team working across the different projects including the 'Teaching Jobs' service for the Department for Education and the 'Report a Repair' service for Hackney council.
The experience has been great, I get to work on meaningful projects that improve public services, but don't have to suffer some of the internal politics that a lot of in-house user researchers have to deal with on a daily basis.
What to expect working at dxw:
The on-boarding process was one of the smoothest I have ever come across, including a screen full of welcome post-its on my first day.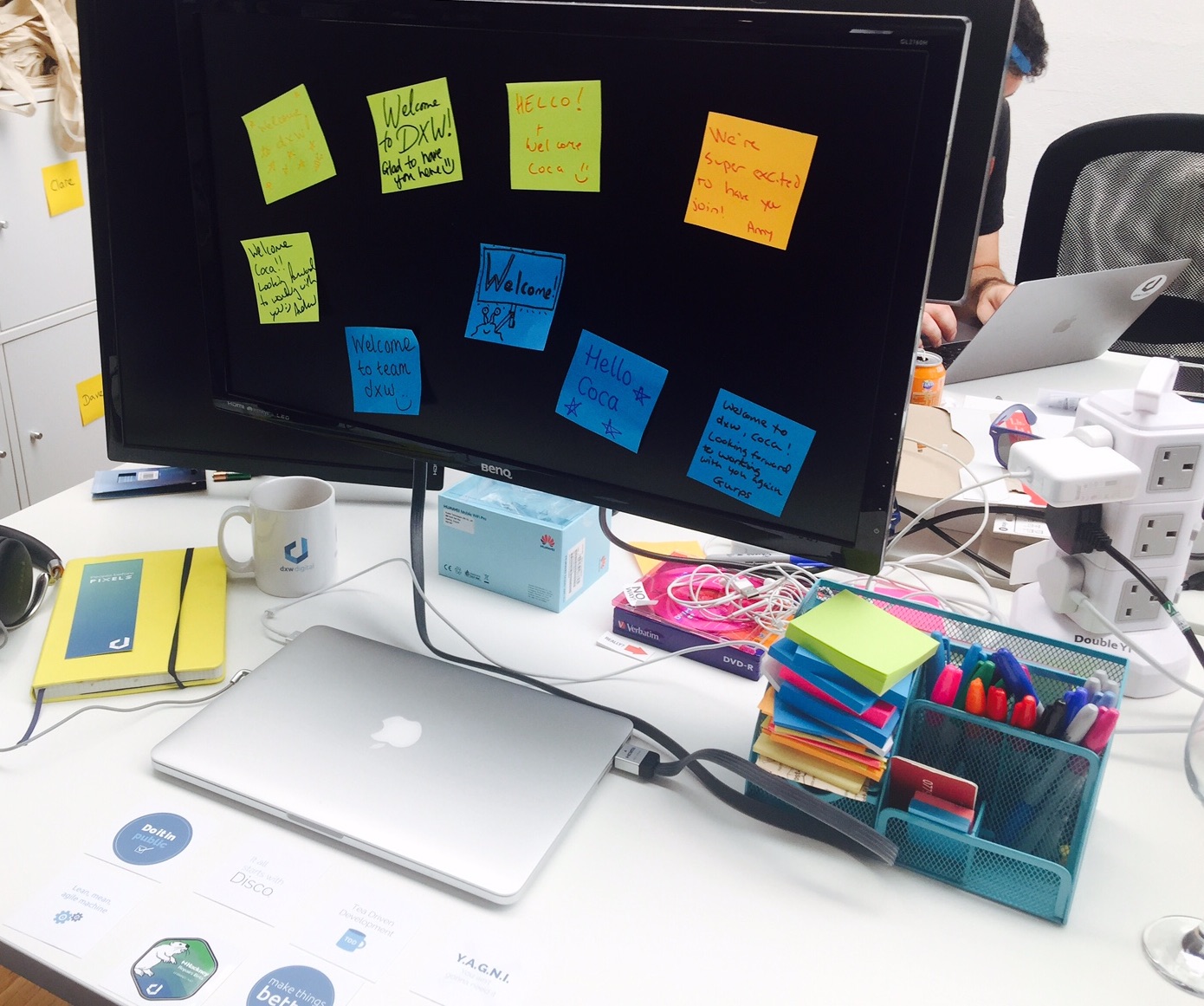 Welcome messages from colleagues
Some of the  highlights from the last two weeks are:
Attending the 'heads of' weekly meeting and being able to contribute ideas

Discussing how to find assisted digital users so we could test the new Teaching Jobs service

Attending  a 'show and tell' that the  product the team has been working on for the last few months with the Permanent Secretary for Education

Getting to know each one of the team members of the research team (aside from Vita on maternity leave)

Attending to the team hackathon, where one of the team members built a tool that helps record the before and after of a design decision for products  

Conducted user research with teachers

Two team lunches and attended the company's 10-year anniversary party
Become our new Head of User Research!
If you're interested in becoming part of the team, leading the user research team and you are passionate about improving public services, please apply for the head of user research role here before the 6th of July.
Good luck!