My first year as an Associate Service Designer at dxw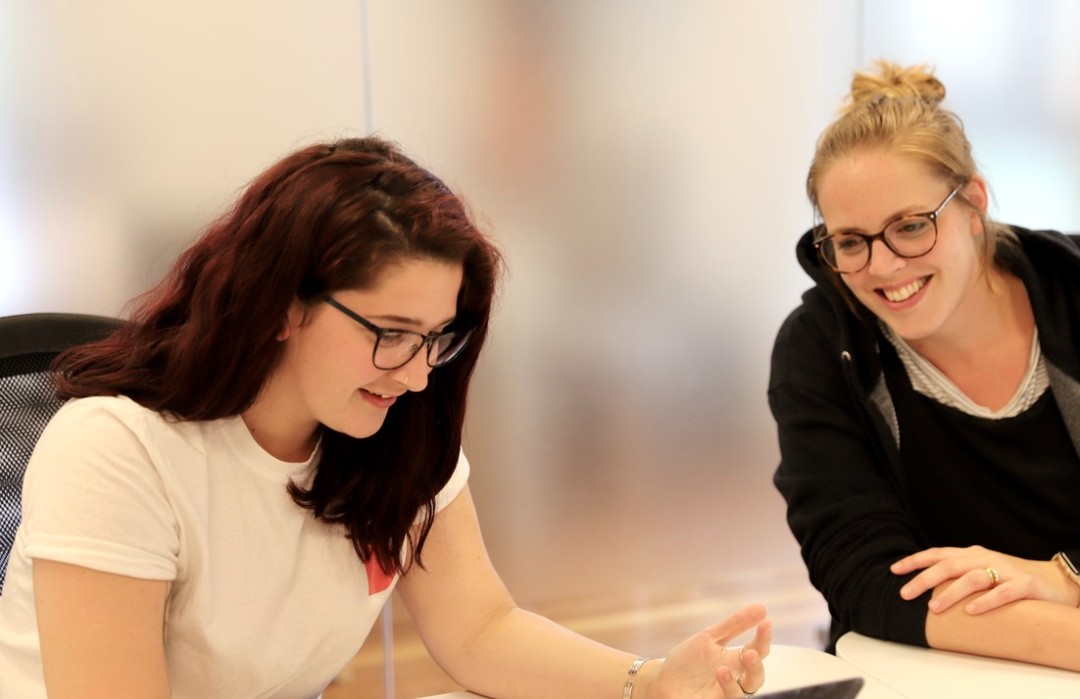 I'm excited to continue to grow and learn through the varied experiences and opportunities I'll go on to have
I'm Morrighan and I joined dxw just over a year ago, as its first Associate Service Designer. I've recently been promoted to a Practitioner Service Designer, and to celebrate this promotion and my 1 year anniversary at dxw, I wanted to share my journey to dxw and some of my experiences since joining.
How I got here
I've always been interested in the arts and design. My mum is an art and photography teacher, and my dad is a nurse. So, for as long as I can remember, I've been surrounded by creative people who've been teaching and educating others, and passionate about problem solving and improving things.
I'd always wanted to be a traditional Product Designer, making physical things, so in 2015 I went to study Product Design at Glasgow School of Art. I soon realised that I was most interested in, and inspired by, social innovation, working with users and communities, and improving the services they relied on. I'd never heard of Service Design before university, but I soon realised that it was more closely aligned with my interests.
During my degree, I had some great opportunities to work on live projects with clients. And wherever possible, I chose to focus my projects around my increasing passion and interest in healthcare, public, and third sector work.
In 2019, I graduated from university and took some time out to travel around Asia solo. But, unfortunately, the events of 2020 cut my trip much shorter than expected. So I found myself back in the UK trying to start my service design career in the middle of a global pandemic. After 6 months working in a grocery shop and 6 months working in a CAD studio, a position came up here at dxw. It had been on my radar since my second year at university, so I was super excited about having an opportunity to apply.
And, spoiler alert, the interviews went well and here I am!
Starting at dxw
Although my client projects at university gave me insight into the service design world, I had lots to learn – about agency life, what it's like to design and deliver services for real, and what my role here at dxw actually looked like. And I learned it all while working remotely, for the first time.
As dxw's first Associate Service Designer, it's been as much a learning experience for me as it has been for the company. Communication has been crucial. I've had to share what's worked well for me, what I'd like less and more of, and give and receive feedback on my experiences so far.
My first week at dxw was very exciting and fast paced. Within my first few days, I joined a short design sprint project, but I was given loads of support and guidance when I needed it. For me, this was the best way to start – it helped me get rid of any initial nervousness early on.
Since then, I've worked on 2 projects with the Department for Levelling up, Housing and Communities (DLUHC), system mapping the planning system, and delivering insights to help support department and policy transformation. I've also worked on a beta service project, and contributed to taking that service through a service assessment, both completely new experiences to me. Throughout these projects I was trusted and encouraged to lead work where I felt comfortable, and able to step back or ask for help if I needed it.
Opportunities to learn and grow
One of the things I've loved most about the opportunities I've had at dxw in this last year, is the variety of work and experiences to learn. From more traditional design sprint projects, delivering a beta service to the Service Standard and going for assessment, to more flexible systems mapping work with DLUHC. This involved delivering visual, almost strategic design outputs. Although my title is Service Designer, there's always been flexibility in my role. I'll support, and sometimes lead, user research, interaction, design or content design, where needed.
I've also been involved in lots of internal work. From designing new brand stickers and producing illustrations for projects, to being part of working groups. It's also been great to have the opportunity to get involved in some of the 'behind the scenes' work, such as bid writing and sales, which is integral to keeping the agency up and running.
Alongside the opportunities to grow and develop on client and internal project work, we also have an annual £1000 learning and development budget. We can use this for other learning opportunities such as courses, conferences, reading material, or anything else that might support your development. I've used my budget on a SuperHi membership, enrolment on a systems thinking course, and tickets to 3 conferences/events: Service Design Days, Trauma Informed Design and Doing Design Festival. This has been enormously valuable in my first year at dxw. As well as providing me with new things to learn, it's also given me opportunities to hear alternative perspectives, and fresh ideas, from subject matter experts.
How I feel now
It's not always been easy, and there have been some really tough moments in the last year. Times when I've been massively out of my comfort zone, felt I've not performed my best, and ultimately felt a bit lost. Not to mention some serious bouts of imposter syndrome.
But these have all been great learning experiences. And, as someone very early in my service design career, the variety of project work, and breadth of my role has been so valuable. It's given me the opportunity to experience different ways of working, discover the things I love and am most inspired by, find where I'm strongest and where I have the most room to grow.
I've really loved my last 12 months at dxw, and have learnt a lot about agency life and the project responsibilities of a Service Designer. I'm excited to continue to grow and learn through the varied experiences and opportunities I'll go on to have.