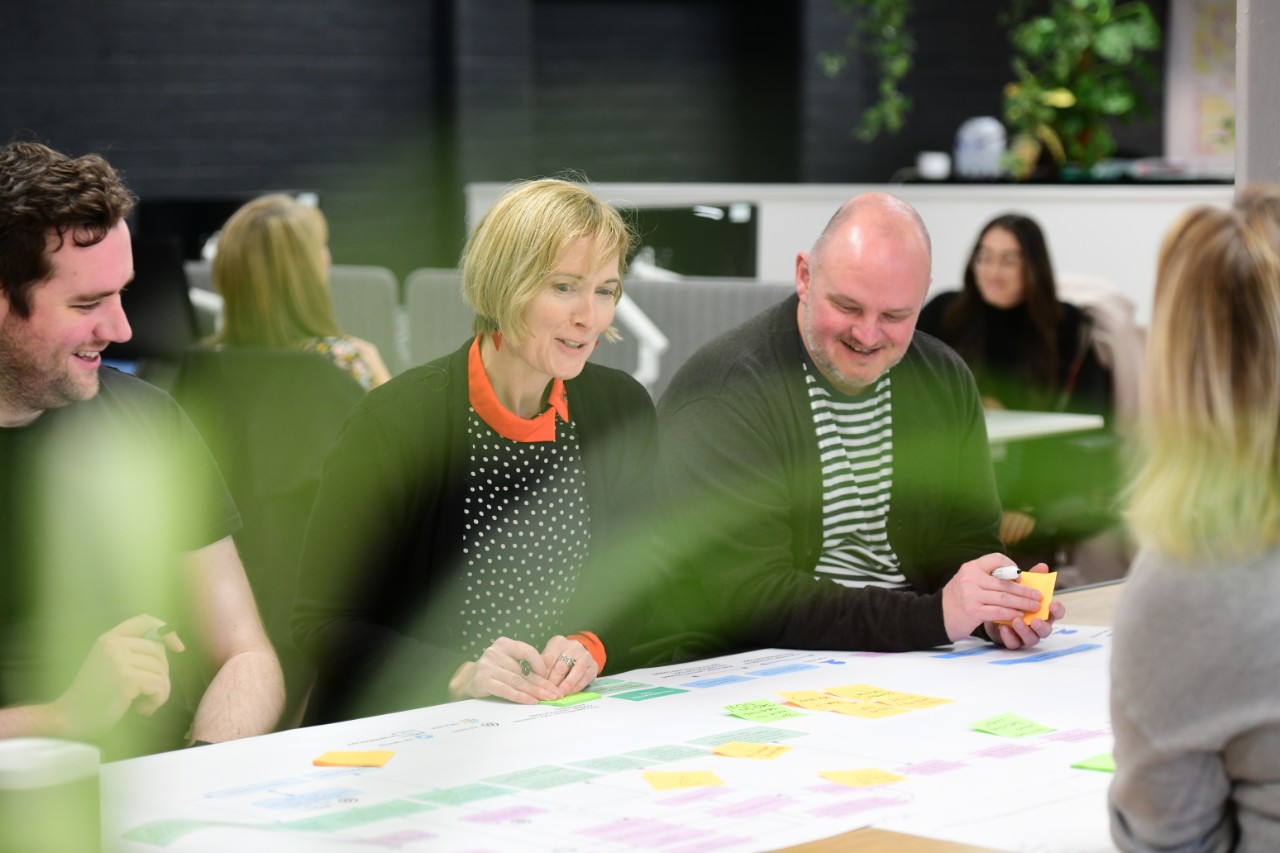 Learning by doing is a great way to build capability and gain credibility
Croydon Council are reshaping their IT and digital function into the Croydon Digital Service to deliver better outcomes for their residents. They asked dxw to help them start their ambitious journey
Result
The vision for Croydon is to have multidisciplinary teams that include digital delivery, IT, and operations roles. The teams will be responsible for delivering all digital and IT services in partnership with operational departments.
We supported the new Croydon Digital Service to set up their first multidisciplinary team and test new ways of working in practice while building a new service for residents and businesses in the borough.
The intention is now to scale this approach to cover all council services.
What we did
Strategy workshop
We kicked off our work with the council by running a strategy workshop with the Croydon Digital Service team at our London office. The aim was to develop a shared understanding of how working in multidisciplinary teams will deliver better services.
We ran two exercises to gather views and build consensus. We started with a hopes and fears exercise for the team to share current challenges, opportunities, and their appetite for changing their delivery model.
We then moved onto a roadmapping exercise to give the Croydon team a set of prioritised steps to turn their vision into reality. We collectively agreed on goals and the measures to know when they've been met. This also helped us to work through:
the roles needed and capabilities for these roles
stakeholder management and how best to communicate
what still needs to be learned or proved
risks and dependencies
The team left with a clear prioritised list things they needed to start work on straight away.
Learning by doing
The next stage was to support the Croydon Digital Service to work on a real project with a multidisciplinary team. Learning by doing is a great way to build capability and gain credibility in an organisation for introducing new ways of working.
Croydon didn't have all of the roles they needed in this first team, so dxw partnered with them to build a full multidisciplinary team, and to provide coaching and share knowledge as we worked together on the new service.
We were able to deliver and launch the new Croydon blog within weeks. To help determine the next steps, the dxw team then worked with the management team to review and advise on the organisational design for the future model.
Scaling
The crucial question was how to harness the positive energy and momentum built up through the initial project and not to overwhelm the team during the process of scaling.
We worked through the criteria for the type of projects that multidisciplinary teams should work on and how they should be prioritised. What all the projects will have in common is that the user need must be real and well understood.
Together we've laid the foundations for applying user-centred, service design approaches to tackling some of the stickier and more complex IT and digital challenges that all councils face.