International Women's Day #BeBoldForChange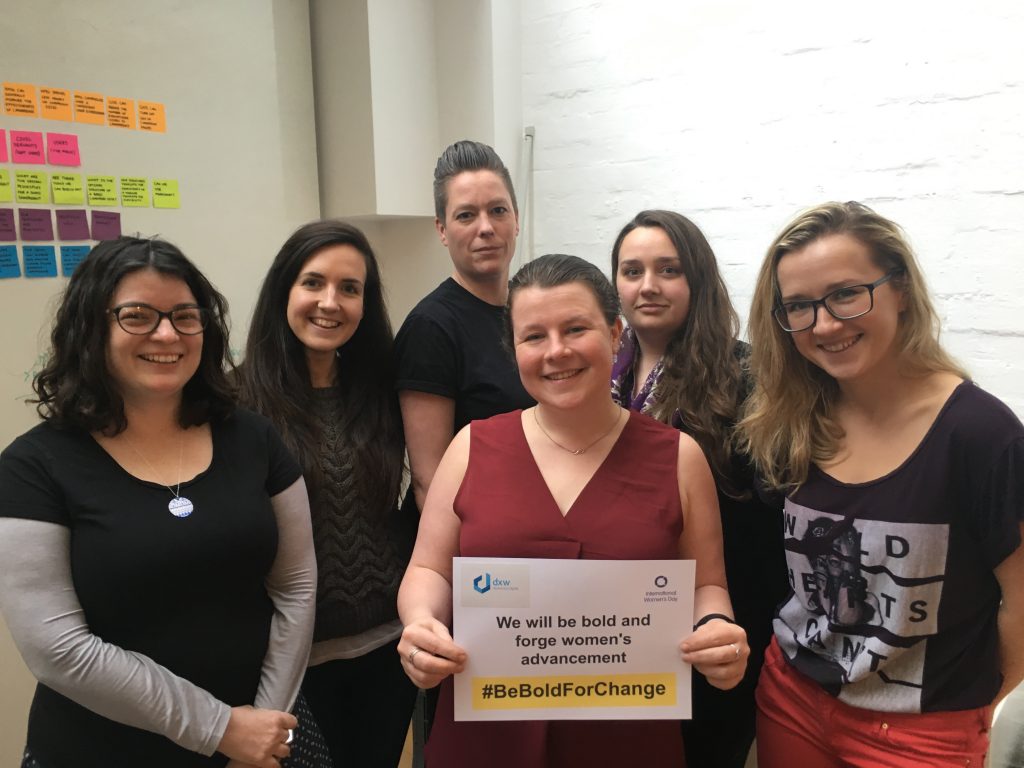 International Women's Day #BeBoldForChange
Here at dxw we celebrate equality and diversity and believe that gender should not have an influence on how you are treated. It doesn't matter if you're binary, non-binary or anyone in between. We recognise is that there is still gender inequality in the world we live in and we want to help close that gap, challenge prejudice and promote change.
For this year's International Women's Day (IWD) we'll be giving our support and making a contribution in a few different ways and looking to the future.
What we are doing today
Vita and Jess will be speaking at the Service Design in Government conference, an event long attended by dxw to further our goal of helping the public sector make good technology decisions and build better services. Though not specifically a IWD event, we're proud to have our awesome advocates speaking at an event with so many other women leaders.
Sammy, Alex and Stacey will also be attending Service Design in Government over the next few days to do some networking, share our experience and learn new skills.
Vanessa will be attending the International Women's Day Digital Chat hosted by MyKindaFuture. The event looks to bringing together female employers and young people looking for hints and tips about recruitment processes, career paths, working life, company culture and job application advice for women.
Magda is one of the driving forces behind our celebrating IWD today, she is a Designer / Developer. She will be working from home today to be on hand for her poorly daughter, a challenge most working parents can identify with.
Leanne is going to the Leicester Square Theatre for the Women in Stand Up which has absolutely nothing to do with a usual morning tech 'stand up' (Ed. she's still laughing at herself for this 'joke'). She is a fervent believer that women are just as funny as men even though her own attempts probably set the cause back somewhat.
What we do throughout the year
What we've changed
We've set up our own women's group (#dxwomen). We have a Slack channel which we use to discuss issues, share interest pieces and community events. We also get together regularly to discuss all things 'women' at dxw.
In the last 18 months we have increased the proportion of women to one third of the company. We have female delivery managers, researchers, a product manager and dxw's business operations are predominantly run by women. However, we only have one female designer/developer which makes our development team less diverse. One of our reasons for attending Women of Silicon Roundabout 2016 and similar events has been to find new ways to increase diversity in our technical teams.
Our recruitment system, Workable, gives the option to remove photographs of all candidates from applications which we have enabled. We've also been encouraged to have more diverse interview panels throughout the recruitment process, which is something we are now mindful of when scheduling interviews for new hires.
The benefits and perks we offer have also been reviewed, in the hope we can become more attractive to a more diverse audience. We now offer childcare vouchers, paid occupational maternity leave, a good pension and are working on ways to improve how we support more personal development.
What we're planning to do
We will continue to search for ways to have a better gender balance within dxw. We have plans to look at the way we advertise roles, making sure that we promote job vacancies in both mainstream and gender-focussed channels, and be conscious of the language we use in those adverts.
We'll continue to attend events, workshops and talks that focus on diversity so we can learn how to improve and share our experiences, as well as the things we have found to work for us.
We are always looking to improve so if you have any further advice – we would love to hear from you.
About International Women's Day
IWD is celebrated every year on the 8th of March. The first was in 1914 when there was a march from Bow to Trafalgar in support of women's suffrage. Since then things have significantly improved for many women across the globe, but we are constantly reminded of the gender disparity we face.
We use IWD to remember and to celebrate women long overlooked throughout history for their achievements. We also use this day to highlight inequality based on gender, to promote visibility to all the women across the globe who may not have a voice of their own and to inspire future generations of women, everywhere.
It's an inclusive event which is not designed for segregation or negativity. It's for everyone, everywhere to make a change for equality.