Humans of dxw: our Head of Design who wanted to be a musician and a vet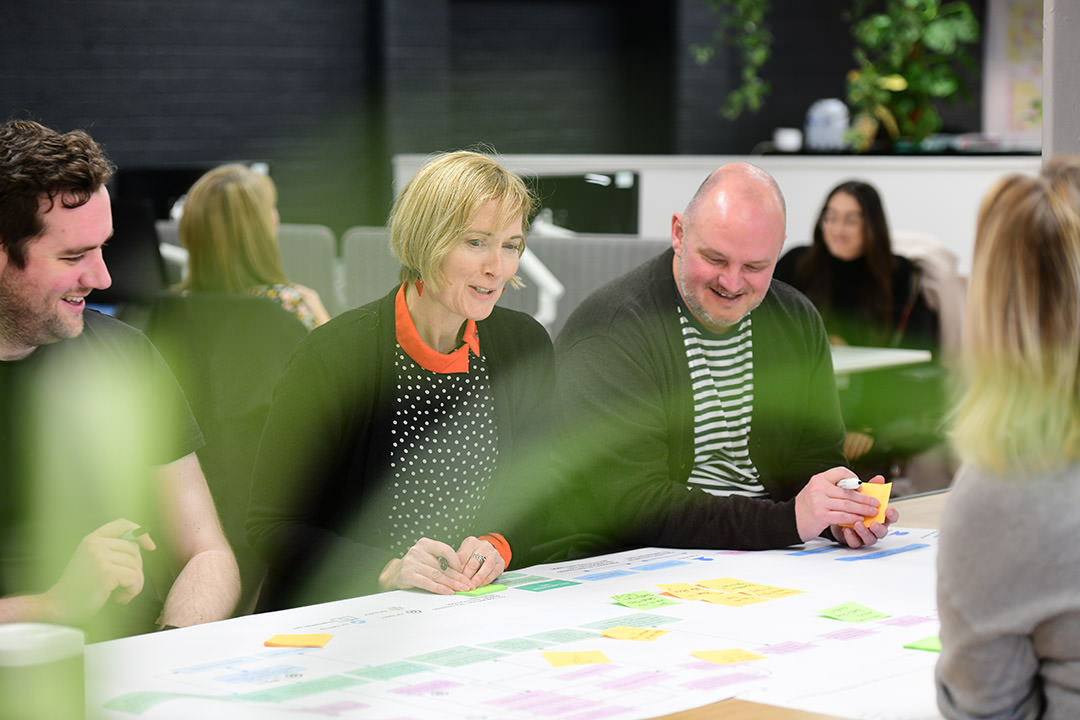 With a fully formed appetite for public sector work, I joined dxw as a designer in the summer of 2017
When I was 14, I wanted to be a veterinarian. One day my biology teacher took me aside and said I just wasn't academic enough to be a vet. I agreed with her. So how does a veterinarian wannabe end up as Head of Design at a digital agency?
From music to design
By the time I left school, music – playing the guitar in particular – was my everything. I did a part time college course in sound engineering, rang around dozens of recording studios in Manchester and eventually got myself a gig as a tape operator (aka tea and butties executive).
When that came to an end, I got a job in a record shop, which I ended up managing. One night I was hanging out at a friend's house while he was doing his college homework. He studied graphic design and was designing the artwork for a pizza box. I thought it looked like much more fun than flogging Take That cassettes and keeping kids from nicking t-shirts.
I hastily assembled a portfolio — that featured several pieces borrowed from friends — and took it to an interview to join the BTEC ND Advertising Design course at Wigan College. I'm certain the tutor knew the work was not entirely my own, but I think he was impressed with my desire to blag my way onto the course, and needed to get some bodies in.
The course was great and I got some valuable work experience at the incredibly swanky McCann Erickson agency. I followed the ND with an HND in Graphic Design & Communication, where things got serious. The HND differed to the BA in that the classroom was run like a studio, and the emphasis was very much on making things and building a portfolio.
In the mid 90s, graphic design was one of the most oversubscribed subjects in the UK which made getting a job in the industry hard. Over the course of the next 2 years, I did a few jobs to pay the bills: entomologist, barperson, deck chair attendant (living in Bournemouth for the summer, sleeping on a floor, and paying £10 a week rent while cashing a council cheque each Friday lunchtime). I also made it to the final round of interviews to become an RSPCA inspector.
Agency life
I was happy but realised the 4 years I spent studying were increasingly looking like a wasted effort. Despite several knockbacks, I decided it was time to barge my way into the design industry. At the tail end of 1999, I eventually got a job with a small agency in Colchester, had a fun couple of years, and made some friends for life.
From there I moved to an agency that had a team of 7 when I started, and 40+ when I left 8 years later. I got to work on a huge variety of things including newspaper, outdoor, radio, and TV ads, teaching myself how to use a pro video camera and editing software and we made interactive DVDs (2006!) and later, video for the web.
I learned how to turn my own static designs into HTML and CSS, and made my first WordPress blog. Starting as a middleweight designer, I worked my way up to creative director, managing a team of 13 designers, artworkers, and developers.
After the global financial crisis of 2008, things took a bit of a hit and in 2010 I was one of a few people made redundant. I decided to go freelance and work exclusively doing digital design and front end development. I spent a few years jobbing my way around agencies, startups, and publishing companies, all the while getting more into human centred design.
Although I enjoyed the variety that freelancing brought, I longed to do work with meaning and a positive social outcome. Through a chance exchange on Twitter, I ended up spending time working at a startup called The Amazings, which was a marketplace for retirees to pass their skills down to the younger generations. Through folks I met there, I did a couple of small gigs at Sidekick Studios and the "startup for startups" that was Makeshift.
Around that time I became aware of of a product/service called Casserole Club , a way to reduce social isolation and improve food provision among older people, and the work of a company called FutureGov. I decided I had to work at this place  and I did, for the next 3 and a half years.
No such thing as a typical week
With a fully formed appetite for public sector work, I joined dxw as a designer in the summer of 2017.
After a couple of promotions, my current role is Head of Design. Beyond my regular one to ones with the people I manage, there's no such thing as a typical week for me. Any given week could see me getting involved with: catch ups with members of the wider team, supporting delivery teams by helping cross-specialism collaboration, facilitating design community events, occasional hands on design work, helping the sales and marketing teams, recruitment, and refining our internal processes.
It's been a tough year or so for everyone but the spirit and resilience of our design team has meant that we've not only survived, we've thrived. We've added some really great new folks to the team across all of our specialisms. We've started hiring associate-level designers. And we'll continue to grow, diversify, and strengthen as the year goes on.
If you're interested in hearing about life as a designer at dxw, want to hear about any of our open vacancies, or just want to have a brew and a natter, get in touch!