Discoveries with impact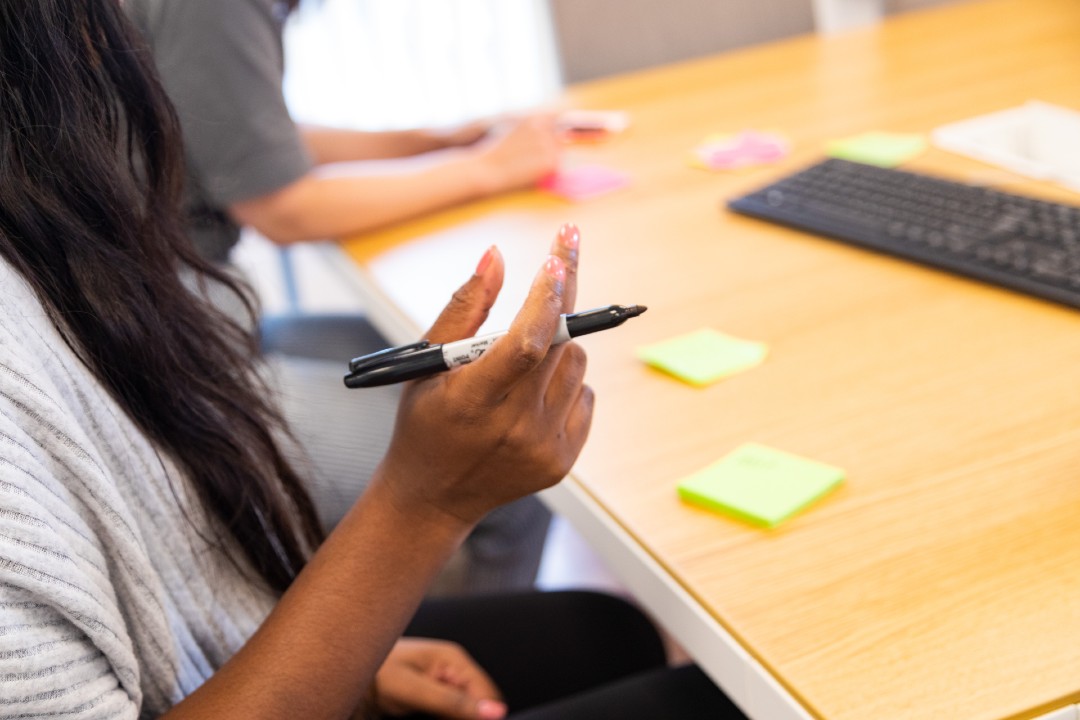 Impact happens when decisions are part of the discovery
Before we decide to create a service, we need to properly understand the people involved and impacted, the context, the constraints, and the outcomes we're trying to achieve. Discovery is the research and design phase where we gain that understanding.
At dxw, we do a lot of discoveries. We've written before about good questions to get them started, and about the need to embrace uncertainty in doing them.
We wanted to share more on what we've learned about putting together good discoveries. Discoveries that help organisations build their understanding, make good decisions, and lead to valuable change.
Discoveries that make things better for people.
Big picture or specific problem
Start by getting the scope right.
For a specific problem, and especially where there are some existing ideas about what to do, discovery can be focussed and quick. We can use it to clarify our understanding of the problems and intended outcomes, to identify our best opportunities, and to create and consider different improvement ideas and hypotheses to explore in one or more alphas.
Read about this discovery on coastal safety with HM Coastguard.
Where you're working with a large service or 'socio-technical system' that spans several organisations, we often find that no group has a complete picture or is clear about where best to begin. There may be a history of local optimisation and changes that have unanticipated consequences elsewhere.
In this case, we can use the discovery to create a big picture of the entire service. To better understand all the different people involved and impacted, and the outcomes they're looking for. To see what's working well that we can build on, and where the most significant problems we need to address are. And to identify human, ethical, legal, political, and technical constraints, and potential negative consequences of different improvement ideas.
Read about this discovery into the criminal justice system.
Learning or shaping
Consider whether your discovery will be more about learning or shaping.
Where you have large gaps in knowledge and understanding, your discovery will need to focus on new research and investigation.
If you have lots of disparate and poorly understood information, and lots of conflicting ideas about what to do, the discovery will be more about pulling that together into a coherent picture and resolving conflicts to support good decisions.
Read about this discovery with the British Library.
With us, not to us
We work with lots of organisations and regularly see previous discovery work that had no impact. This has often been done by suppliers or separate internal teams, who treated the existing service teams and stakeholders as research subjects rather than full participants.
This leads to distrust, with the discovery team seen as outsiders who don't really understand the context, or are mostly just telling us things we already know. Teams feel no ownership of the discovery work, and can decide whether or not to accept the results of the discovery after it's finished. Most often not.
Discoveries have impact when stakeholders and colleagues from service teams are core members of the discovery team.
Read about this discovery with Barnsley Council.
Making decisions over sharing findings
Another reason for not making an impact is discoveries that produce findings, but don't make strong recommendations or good decisions about what to do next.
Sometimes this is because the discovery team is reluctant to do the difficult work to resolve conflicting viewpoints. Sometimes it's because the people who need to make decisions aren't involved in the discovery, and findings and options are sent to them as an output.
Impact happens when decisions are part of the discovery.
Read about our work on affordable housing monitoring with Southwark Council.
Producing good reports
The material of discoveries is about creating shared understanding. Some of this is best done in presentations like show and tells. But we also need to create descriptions and visualisations that can be shared across and outside an organisation, that can be passed into future work, and can build up a library of knowledge over time.
So discoveries need to produce good reports. And we love the description of this in the Dot Everyone definition of done.
Not doing a discovery at all
Another kind of ineffective discovery we see is the discovery that never needed to be done.
In a presentation at Service Design in Government this year, Nabeeha Ahmed from the Ministry of Justice showed how design hypotheses are an important output of their approach to discoveries.
And I gave a talk at the IxDA's Interaction 20 conference on how to create and use those hypotheses.
So always remember that discovery is not the only way to begin. If you have a good understanding of the problem, and solid improvement ideas framed as hypotheses you can test, then you don't need to do a discovery.
Read more in our Playbook
If you want to find out more about how we design services at dxw, you can read about it in our Playbook.